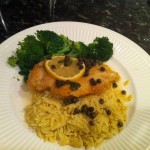 Chicken piccata is a fantastic and classic Italian chicken dish. Even more importantly, it is relatively easy and if you can make this, you can make several similar dishes as well. One of the other great attributes is you do not have to be exact in your measurements. All measurements listed below are really just estimates. You can use more lemon for a zestier flavor or more butter for a more savory dish. It is great for just two and also easy to make for a crowd. Melissa has made this several times for groups of 20-40 people.
Servings: 6
Difficulty: Moderate
Time: Prep Time – depends on your cutlets and quantity Cook Time: for 6 – 45 minutes
Ingredients:
6 – Boneless, skinless chicken breasts (Two choices: "The easy way" – buy cutlets that are already sliced thin; "advanced" – buy a whole breast and slice thinly in half (lengthwise) and pound yourself. This makes the chicken more tender and is generally less expensive, but it is more time consuming and messier. Check out our video on how)
1 1/2 cups of Flour
Salt and Pepper to season chicken
1/2 cup of Extra Virgin Olive Oil
2-3T Butter
1 1/2 cup White Wine (yes, it should be nice enough that you would drink it but don't break the bank. We always like a bottle that we can enjoy the rest while preparing the meal)
1/4 cup of Capers
2 lemons
3 tablespoons chopped parsley for garnish (optional)
How to make easy chicken piccata:
1. Prepare the chicken breasts
Heat about 1/2 cup of Olive Oil in a skillet (I ususally use a non-stick skillet for this) over medium heat.
While waiting for the oil to come to temperature, salt and pepper your chicken breasts. Lightly dredge the chicken in flour and shake off any excess. Make sure the entire breast is lightly coated.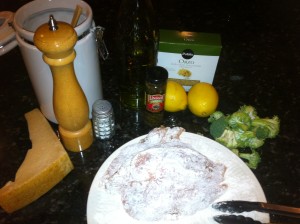 2. Saute the chicken breasts
Once the oil is hot (you'll know when you sprinkle a pinch of flour in the pan and it bubbles), gently place the chicken breasts in the skillet. Always place anything in hot oil by setting it away from you to avoid any hot oil spattering on your toes. Do not overcrowd the pan.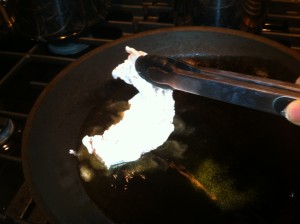 Cook the chicken until lightly golden on one side and then turn. You should only need to turn each piece once. Cook on the 2nd side until barely cooked through. Depending on the heat of your stove and the thickness of the cutlet, it should be about 4 minutes per side but it does vary. If the breast is slightly undercooked, that is ok as this will be going into the oven at the end. When cooked through, remove and let drain for a minute on some paper towels.
Repeat with remaining chicken until all are complete. Transfer the chicken into an oven safe baking dish of your choice. You will serve directly from here so if you are worried about what your guests think of you, pick a pretty dish. I generally use just a simple glass pyrex dish.
3. Make the pan sauce for the chicken
Now for the best part – the sauce. Don't get too intimidated by the word "sauce". You won't be stirring or worrying about lumps. This one is actually very forgiving. However, you may want to pause for a moment and drink some of that wine! While you enjoy the wine, preheat your oven to 350 degrees.
When you are ready, remove most of the leftover olive oil with a paper towel. You'll want to leave about 3-4 tablespoons. Don't worry about removing any brown bits leftover from the chicken, this is what helps add a lot of flavor. Over medium heat, add 1T of flour and stir in until well incorporated with the oil and brown bits. Turn the stove off if working over gas and pour in the white wine. Return the pan to a burner on high and bring to a boil. Let boil until reduced by about half. Add the capers and the juice of one lemon. I also put the two leftover halves of lemon directly in the pan to extract more flavor. Let cook for about 2 minutes more and taste. Add salt and pepper as needed. If it tastes good, turn off the heat and add the butter. Stir until melted. Remove the lemon halves and squeeze out the remaining juice (be careful not to burn yourself). Pour the sauce over the chicken.
4. Garnish the Piccata
If you want to make this pretty, slice the second lemon into thin rounds. Remove the seeds and garnish each chicken breast with a slice of the lemon. Then garnish with some chopped parsley. If doing for a crowd, do all of this before they arrive and save yourself some time to clean up the mess and get yourself dressed. Once you are ready and guests are ready,continue to baking the dish.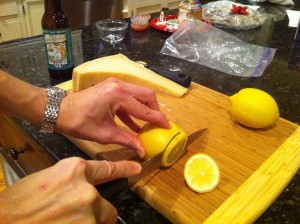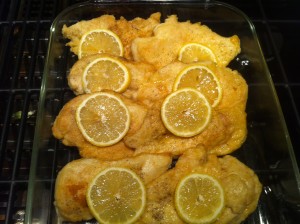 Place in the oven and let cook for about 10-15 minutes if you are continuing immediately and the dish is already warm. If using a prepared dish that is already cooled, then cook for about 25 minutes or until warmed through.
5. Sides for Chicken Piccata
I always like this dish with some pasta (orzo is fantastic) and steamed broccoli as the buttery, lemony sauce goes well with both. Just garnish with a bit of freshly grated parmesan cheese and chopped flat leaf parsley if you have it and you are ready to eat!