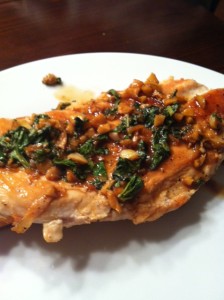 As I'm trying to come up with new chicken recipes for our blog, I'm running into a bit of trouble. Here's the issue…I gave up wine for Lent. Many of my best recipes call for 1/4 cup of dry white wine. As Melissa and I will both tell you, don't cook with wine you aren't willing to drink. I am certainly not going open a good bottle of wine for 1/4 cup that I'm going to add to a chicken dish and NOT drink it. I just don't have that much will power, so don't look for too many chicken recipes from me until April 1st!!   Wow…I went off on a tangent! Anyway, this Chicken with Lemon-Basil Sauce is a recipe I found in Bon Appetit Magazine many years ago.
Level of Difficulty: Easy
Time Required: Prep Time – 5 min; Cook Time –  20 minutes
Ingredients:
3 T. Olive oil
Salt and pepper
4 boneless skinless chicken breasts
3 T. fresh lemon juice
4 garlic cloves, chopped
1 t. grated lemon peel, packed
1 c. chicken broth, low-sodium
1/2 c. chopped fresh basil or 1 T. dried basil
Special Equipment and Other Items Needed:
Foil
Heavy Stainless Steel Skillet. If you need a good one, try this!

Microplane for grating lemon zest- need one, try this!

Preparing Chicken with Lemon-Basil Sauce:
Heat oil in large heavy skillet over medium-high heat. Sprinkle chicken with salt and pepper. Add chicken to skillet and sauté until brown and cooked through, about 5 minutes per side. Transfer chicken to platter, tent with foil.
Add lemon juice, garlic and lemon peel to the same skillet. Stir over medium-high heat until fragrant, about 30 seconds. Add chicken broth; boil until reduced to sauce consistency, about 8 minutes. Mix basil into the sauce. Season to taste with salt and pepper. Spoon sauce over chicken and serve.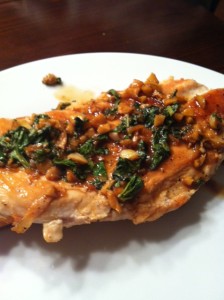 Meal Ideas:
Serve with steamed vegetables and a simple starch for a complete meal.