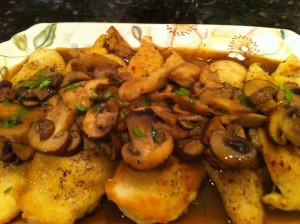 I love Italian food. Whether it is the more well known southern Italian food noted by its light flavors and tomato based sauces or the northern Italian dishes known more for heavier sauces and mushrooms. Chicken Marsala is one of my favorites. What's not to like about sautéed mushrooms and wine! This is a great one when you need a new chicken recipe to put in your rotation.
Level of Difficulty: Moderate
Time Required: Prep Time – 20 min; Cook Time – 30 min
Ingredients:
4 boneless, skinless chicken breasts, split in half and pounded thin (or 8 chicken cutlets) check out our video on how to prepare yourself
2 pints mushrooms (assortment of oyster, baby bella, white), sliced (picture 4)
2 T butter
2 cups Marsala wine
Olive Oil
Parsley, chopped for garnish (picture 3)
Flour
Salt and Pepper
Preparing Chicken Marsala: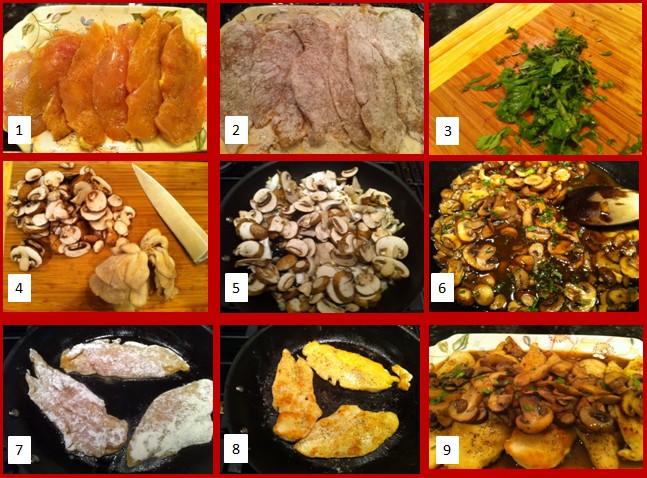 Preheat oven to 350 degrees. Salt and Pepper the chicken breasts (picture 1). Dredge through flour and shake off any excess (picture 2). Heat olive oil in skillet over medium-high heat. You'll need enough oil to cover the bottom of the skillet and be about 1/8 -1/4 inch deep. You are not frying, you are sautéing (picture 7).
Once oil is hot, cook chicken until browned on each side (about 4 minutes per side) and then place in oven safe dish (picture 8). The chicken does not have to be cooked all the way through as the entire dish will go into the oven to finish. Repeat until all chicken breasts are sauteed. Add olive oil as necessary.
Once all chicken is cooked, add 2 T butter to the skillet and the mushrooms (picture 4). Sautee mushrooms for about 3 minutes(picture 5). Then add 2 cups marsala wine and simmer until reduced by about half (picture 6). Taste. Add salt and pepper as needed.
Pour sauce and mushrooms over chicken. Put in oven for about 10 minutes or until chicken is cooked through and hot. Sprinkle with parsley and serve (picture 9).
Important Tips:
Making your own chicken cutlets will ensure the chicken is super tender and cooks evenly.
Variations:
Use veal cutlets instead of chicken.
Meal Ideas:
Serve with roasted potatoes and a steamed fresh vegetable.