What a day! I'd love to say everything went off without a hitch, but that would not be 100% accurate….However, it was pretty darn close. Thanks so much to Denise for being with me step for step. It actually worked out so well that we had several moments of twiddling our thumbs in the kitchen.
I arrived at the church at 8:30 after dropping the kids at school. After unloading everything from the car, it was time to get organized. I turned on the ovens to preheat, started simmering the Red-Eye Glaze again (after simmering for 4 hrs the night before, it still was not reduced enough to a glaze yet). I then started with the white bean ragout. The largest pot I had at home did not have enough room for the beans too, so I transferred about 3/4 of the ragout to a new pot, turned on the heat and started opening can after can after can of cannellini beans. After opening 20 cans of beans manually and rinsing them, I was happy when Denise arrived. With the beans added and the pot warming up, they were done other than final tasting and tweaking for best flavors. But that will come later.
Next was the vinaigrette to both marinate the vegetables on the salad and for the dressing. Denise chopped up the artichokes, hearts of palm and roasted red peppers. I made the vinaigrette with red wine vinegar, Dijon mustard, salt, pepper, garlic powder, oregano and olive oil. Done and in the fridge!
We moved on to the bread. We wanted something with some crunch and to help sop up the yummy ragout, so we decided on crostinis. I had bought some good crusty bread from the Costco bakery, we sliced thin rounds, brushed moderately with olive oil, dusted with garlic powder, sprinkled with freshly grated Parmigiano-Reggiano and popped them in the oven. We made 3 1/2 large trays (well, technically 4 but I burned some and had to toss them out). We made these early as the zucchini was going to take the oven space for the last-minute preparation.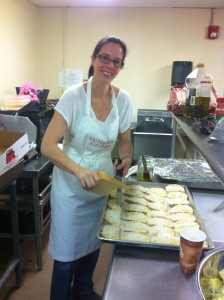 Next up, the pork tenderloins. I brought my All-Clad Double Burner Griddle (gotta get one if you don't have one. Perfect for pancakes, quesidillas, grilled sandwiches, etc).
We used this to quickly sear the meat on all sides to provide color, texture and flavor to the meat. Doing this for 20 individual loins took about 30-40 minutes. Denise chopped the parsley for the garnish, washed and trimmed the zucchini, and topped the loins with their first coating of the glaze. Did I mention that it was fantastic to have Denise with me this year!!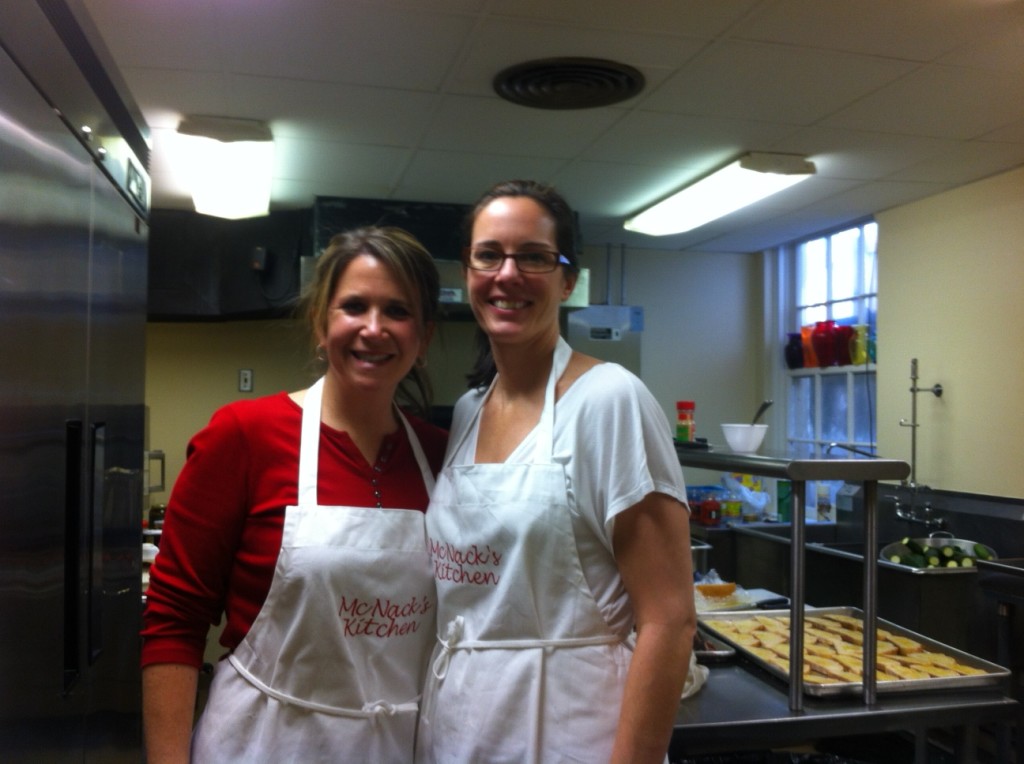 Quick check of the clock and we are ahead of schedule! So, on to the zucchini. A lot of people don't like zucchini and I really have no idea why. When you ask them, they generally say it is mushy, has no flavor, or it is watery. Once again, this is in the preparation. Yes, zucchini (like most vegetables) is probably 90% water. So, why would you boil it in water and expect it to taste like something other than water? For this preparation, we opted on roasting (best way to bring out a veggies true flavors). We sliced them thin lengthwise, coated them with olive oil, salt, pepper, garlic powder, paprika and oregano. Then laid them out on three large sheet trays ready to pop in the oven 10 minutes prior to service.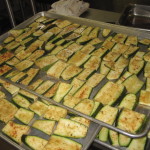 Time to look at the list again and the clock. It's only about 10:30! Bread-done;Salad-prep'd;zucchini-prep'd; beans-simmering;pork-prep'd. Wow! Way ahead of schedule. We took a breath, I showed Denise how pretty the Fellowship Hall was decorated, talked through the service aspect and returned to the kitchen.
Meat in the oven at 11:00, glazed 2 times while cooking and again when we took them out. They completed in about 30 minutes which gave us 30 minutes to let them rest before cutting them, always key with any meat!!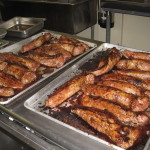 We decided to go ahead and toss the salad, plate it and let the servers put them on the tables for all the guests for when they sat down.

Once that was done, it was time to cut the pork and get ready for the craziness of plating about 65 plates as quickly and cleanly as possible. We recruited a couple of volunteers for the service line and we were off. Time to eat and take a breath!! Everything was really well received and very much appreciated. We received so many wonderful comments about the meal but my personal favorite was the deep and sincere gratitude for the love that was put into each dish.
Thanks to Bruce Dick for most of these great pictures.
Missed part 1 or part 2? Click on the links.