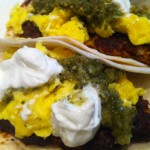 On one of our last one dish, two ways competition, I made a fire roasted tomatillo and poblano salsa to act like a chimichuri for my steak. I made a lot of it and used it two more times the next day. The first was this delicious breakfast burrito where I used store bought black bean burgers from Morningstar. These are delicious all by themselves but I thought they'd be great in a breakfast burrito too!!
Level of Difficulty: Easy
Time Required:Prep Time – depends if you already had the salsa made, so if you did, then just about 20 minutes; Assemble Time – 5 min
Ingredients for 2 large burritos:
1 Morningstar Chipotle Black Bean Burger
3-4 large eggs
2 burrito size tortillas (I use flour but corn would be great too)
Sour Cream or 0% Greek Yogurt
Fire roasted tomatillo and poblano salsa
Cheddar cheese (optional)
1 T butter
How to make a black bean and egg burrito with roasted tomatillo salsa:
Cook the black bean burgers according to the package(Yes, Denise, I used a packaged black bean burger because they are very good!). While they are cooking, get the rest of your ingredients ready. Use a fork to scramble the eggs in a bowl. Add salt and pepper and cheese (optional) to the eggs so they are ready to cook.
When the black bean burgers are almost ready, cook the eggs in a skillet over medium heat with the butter. Cook to your desired level of 'doneness'. I like mine soft.
Heat your tortillas however you like. I generally place them directly over a low gas flame for 20 seconds a side or so. Be careful doing this though! Use tongs and don't forget about them and have them go up in smoke. If you are not comfortable with this, just heat in a dry skillet over medium heat for about a minute.
Remove the black bean burger, cut in half and chop up a bit. Place half in each burrito. Add scrambled eggs, fire roasted tomatillo and poblano salsa and the sour cream/Greek yogurt. Enjoy!!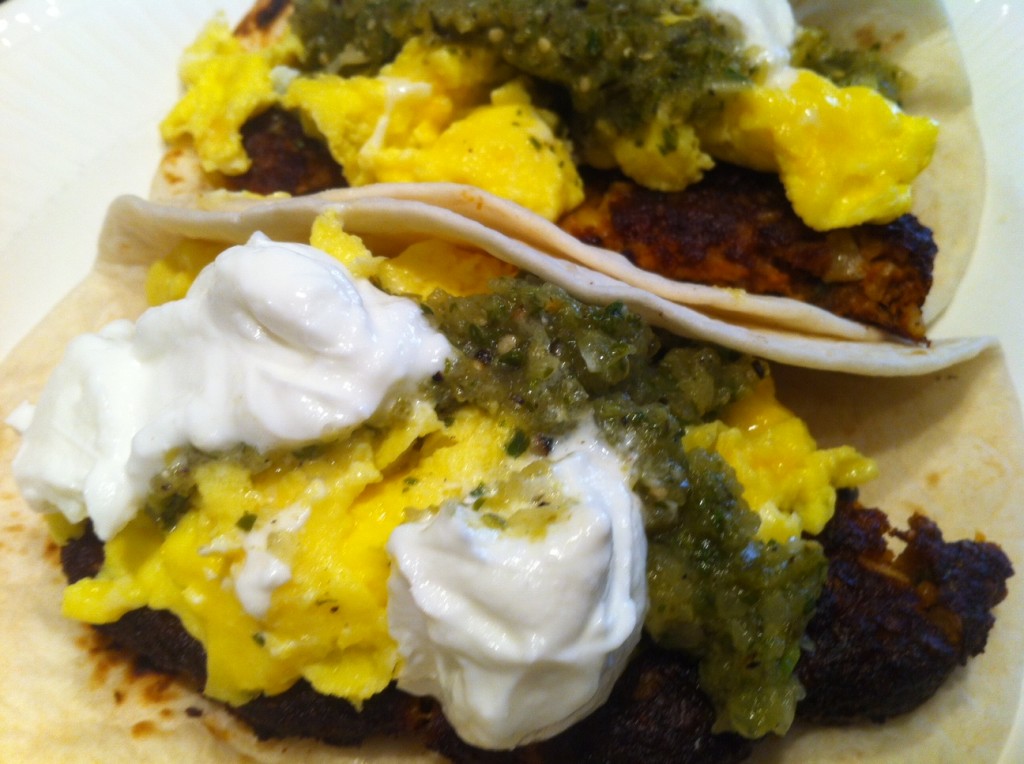 Variations:
Use a different salsa if you like, even <gasp> jarred salsa!! It will be delicious and I won't freak out on you, just Denise.
Jarred salsa and already made black bean burgers? I'm thinking I may have finally rubbed off on you! ~Denise