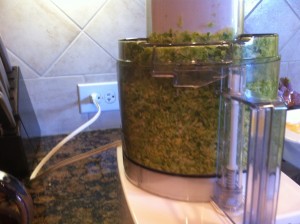 Even if you don't like Brussels sprouts, you really need to give Shredded Brussels Sprouts with Prosciutto a try. They really don't taste like brussels sprouts at all. There's something about shredding them that takes the "bite" out that people don't like. I have made this recipe for people who swear up and down they don't eat brussels sprouts, but they eat this!!!
Level of Difficulty: Easy
Time Required: Prep Time – 15 min; Cook Time – 15 min
Ingredients:
2 lbs. fresh Brussels sprouts, washed
¾ c. chopped walnuts, lightly toasted
2 T. salted butter
1 shallot, chopped
3 garlic cloves, minced
¼ lb. prosciutto, sliced into thin strips
1 T. fresh lemon juice
½ tsp. pepper
½ tsp. salt
¼ c. freshly grated parmesan cheese
Special Equipment and Other Items Needed:
Large saute pan
Food Processor

Preparing Shredded Brussels Sprouts with Prosciutto :
Remove the discolored leaves from the sprouts. You can either cut them in half and into shreds, or better yet, use a food processor (Melissa and I both use Cuisinart brand and love them). It will save you a bunch of time. Melt the butter in a large skillet over medium-high heat. Add the shallot and garlic and saute for a minute or two until tender. Add the shredded sprouts and cook 8-10 until they just start to soften. Add the prosciutto, lemon juice, salt and pepper. Remove from heat and add garnish of cheese and walnuts.
Variations:
If you don't have walnuts, use pecans! You can also substitute pancetta for prosciutto!