Lemon-thyme chicken with feta-herb salad is a wonderful chicken recipe that I have made many times over the years. I just love the fresh herbs and lemon that give this dish a delicious and light taste!
Level of Difficulty: Moderate
Time Required: Prep Time – 15 min + 4 hrs – overnights for marinating.  Cook Time – 25 minutes.
Ingredients:
Marinade and Chicken:
Juice of 1 large lemon
1/4 c. dry white wine
3 shallots, thinly sliced
4 garlic cloves, minced
2 T. chopped fresh thyme leaves
1 tsp. pepper
1/2 tsp. salt
4 large boneless chicken breasts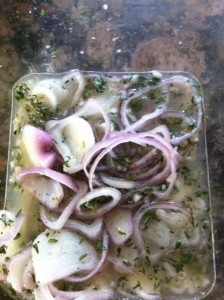 Cooking the Chicken:
1 T. olive oil
1/4 c. dry white wine
3/4 c. chicken broth
Feta-Herb Salad:
3/4 c. crumbled feta cheese
1/2 c. fresh basil leaves, torn into small pieces
1/2 c. chopped parsley
1/4 c. minced scallions
2 T. chopped fresh oregano leaves
2 T. each fresh lemon juice and olive oil
1/4 tsp. each salt and pepper
Special Equipment and Other Items Needed:
Oven safe skillet
Preparing Lemon-Thyme Chicken and Feta-Herb Salad:
Marinade and Chicken: In a plastic food-storage bag, mix marinade ingredients and chicken. Refrigerate for 4 hours or overnight.
Preheat oven to 350 Degrees. Drain marinade from chicken, pat dry with a paper towel.
In a large ovenproof skillet, heat oil. Add chicken and sauté for 5 minutes on each side. Remove chicken and set aside. Discard any fat from skillet but leaving all brown bits on the bottom. Add wine and cook, scraping the bottom for about 1 minute (this is called deglazing and is the method used when making any pan sauce). Add broth and boil for 1 minute. Return chicken to the skillet and place it in oven and roast 8-10 minutes until cooked through.
Salad: In bowl, mix salad ingredients.
Plating: Place 1 breast on each of 4 plates. Spoon pan juices over each. Top with salad!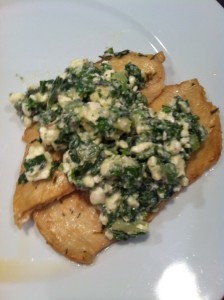 Important Tips:
What really makes this recipe great is the use of fresh herbs. This is not the time to substitute dried herbs.
Meal Ideas:
Serve with brown rice and grilled vegetable for a nice balanced, healthy meal!