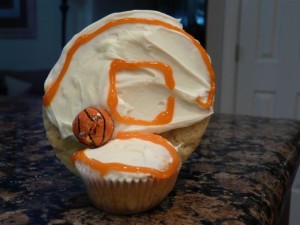 I thought these basketball cupcakes would be perfect for March Madness. I had originally made these for my son's birthday a few years ago, after finding the recipe in Family Fun magazine. They looked pretty intimidating to me at first, but with just a bit of patience and a plan of action they came together beautifully. I made them for all 28 kids in his class. The biggest challenge of all was getting them to the school!
Level of Difficulty: Moderate
Time Required: Total time: About an hour
Ingredients:
1 box of yellow cake mix (and all ingredients to make the batter)
1 – 2 packages of store bought sugar cookies (depending on the number that you need)
2 containers of vanilla frosting
1 -2 tubes of orange GEL (found in the cake decorating section of the grocery store)
mini muffin wrappers (as many as you need )
Chocolate basketballs (found at Party City)
Special Equipment and Other Items Needed:
Mini muffin pan

Preparation of Basketball Cupcakes:
Make the cake batter as directed and fill mini muffin wrappers about 2/3 of the way full. Bake according to what the box says. Take them out and let them cool on a wire rack. While the cupcakes are cooling, take a knife and frost 1/2 of each sugar cookie. Lay them flat. Next, take a cupcake and spread some frosting on one side of it. Attach it to the unfrosted, center part of the cookie. While the cookie is still flat and the cupcake is "drying", take the orange gel and outline the outer portion of the frosted part of the cookie. Also, make a square in the middle for the "backboard". Once everything is set and won't come apart, stand the cookie and cupcake up. Outline the rim of the cupcake and place a basketball in the left or right hand corner.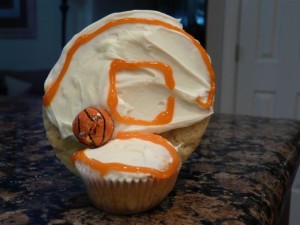 Important Tips:
Be patient. Make sure the cupcake is securely attached to the cookie before trying to stand it up!