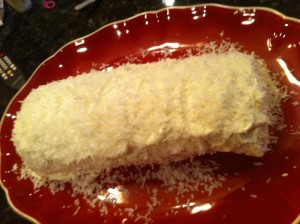 I don't know about you, but I really don't like much of anything with coconut in it. As I've gotten older, there are a few things that I have learned to tolerate like Samoa's and macaroons. However, my father-in-law is a big coconut fan. For Christmas this year, I decided to make a special cake. Wow! Was I happy I did so. This was found in the December 2012 issue of Food Network Magazine and the article can be found here.
Level of Difficulty: Difficult
Time Required: Time: 1 1/2 hours
Ingredients:
Cake
Butter to coat the pan
1 cup all purpose flour
1 1/2 cups sugar
1 t baking powder
3/4 t baking soda
1/4 t salt
4 large eggs, separated, plus 2 egg whites, all at room temp
1/2 cup vegetable oil
1/2 cup coconut milk, at room temp
1 1/2 t coconut extract
Pinch of cream of tartar
Confectioners sugar for dusting
1 T rum
Frosting
6 large egg whites, at room temp
1 cup plus 2 T sugar
3 sticks unsalted butter at room temp, cut into pieces
3 T rum
4 cups sweetened shredded coconut (I used about 3 cups of unsweetened and it reduced the coconut taste a bit)
Special Equipment and Other Items Needed:
11×17 rimmed baking sheet
Parchment paper
Preparing Coconut Roulade with Rum Buttercream:
Follow the instructions in the link above. No reason to retype it here. I followed exactly except I used only about 2 cups of coconut in the frosting. The cake is almost like angel food cake and is really good.