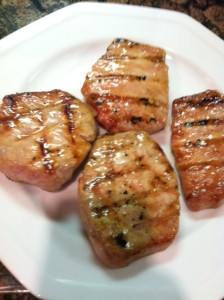 I'm always looking for new ways to cook food for my family that everyone will enjoy. When the kids were younger, plain meat seemed to work, but it was boring for my husband and I. Now that they are older and have a slightly more sophisticated palate, they enjoy sauces and marinades much more. I found this grilled pork chop with brown sugar glaze recipe on allrecipes.com (submitted by GINASTUBBS). It was a hit for everyone!
Level of Difficulty: Easy
Time Required: Prep Time – 5 min; Cook Time – 20 min.
Ingredients:
1/2 cup brown sugar, firmly packed
1/2 cup apple juice
4 T. Vegetable oil
1 T. Soy sauce
1/2 t. ground ginger
Salt and pepper to taste
2 t. cornstarch
1/2 c. water
6 boneless pork chops
Preparing Grilled Pork Chops with Brown Sugar Glaze:
Pre-heat grill.
In a small saucepan, combine sugar, apple juice, soy sauce, oil, ginger, salt and pepper. Bring to boil. Combine water and cornstarch in separate small bowl and mix. Whisk into brown sugar mixture. Stir until thick.
Cook pork for about 10 to 12 minutes, turning once. Brush chops with sauce just before removing from the grill. Serve immediately with remaining sauce.