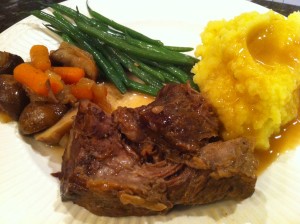 So, how do you braise a meat in liquid and it comes out dry? Wouldn't you think that was impossible? Well, I'm here to tell you that it is definitely possible. However, this recipe and technique is a sure fire way of preparing a juicy and tasty pot roast every time! (adapted from a recipe in Gourmet Magazine)
Level of Difficulty: Moderate
Time Required: Prep Time – 30min; Cook Time – 4 hours
Ingredients:
1 T vegetable oil
4 lb chuck roast (This is key #1)
2-3 sweet onions, chopped
6 cloves garlic, minced
Coarse Kosher Salt
Fresh Cracked Black Pepper
6 oz port wine
1/4 cup red-wine vinegar
2T brown sugar
2 bay leaves
14.5oz container beef broth, low sodium
Water
1 1/2 lbs baby carrots
240z baby bella mushrooms, cleaned
Special Equipment and Other Items Needed:
Must have a heavy enamel pot. Le Creuset is the best. You really should buy one if you don't have one.

Buy one now if you don't have one!!
How to cook pot roast:
Prepare your chuck roast with a good helping of coarse kosher salt and fresh cracked black pepper all over. In your heavy enamel pot, heat the oil over medium-high heat. When hot, add the meat and sear on all sides (about 3-4 minutes per side, that includes more than just the top and bottom if it is thick!).
This is key #2. Once seared, remove and set aside on a plate. Add the port wine and deglaze the pan from all the brown bits by scraping them up with a wooden spoon.
Add the onions and garlic and cook until golden in color. Add the vinegar, brown sugar, bay leaves and beef broth. Add the meat and any juices that are on the plate (never let those go to waste). Add water to almost cover. Cook in oven at 350 degrees for 2 hours.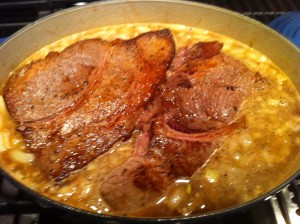 Add the carrots. Cook for thirty more minutes and add the mushrooms. Cook for about 1 more hour or until the meat is deliciously tender and the vegetables are done.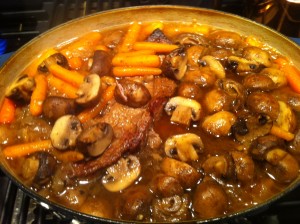 If needed, remove some of the cooking liquid for the vegetables to have room. You can use that to make a gravy for mashed potatoes or rice.
Slice the beef, arrange on a platter, add the vegetables around the outside and add the gravy. Garnish with parsley if so desired to add a bit of color. Enjoy!!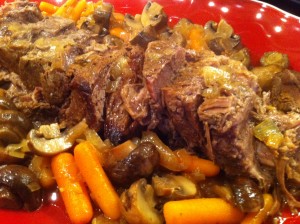 Important Tips:
1) Must use a chuck roast to ensure tenderness
2) Must sear the meat first to help lock in moisture
3) Must have a good heavy pot, really cannot overemphasize that! Click on the pots above and pick the one you want.
Variations:
Change the vegetables to what you like…just think about when to add them for proper cooking.
Not a fan of port wine? I sometimes use Madeira instead. You could also use red wine or nothing but I like port the best.
Meal Ideas:
Serve with rice or mashed potatoes and add something fresh and green like Garlic Green Beans
Got Leftovers?:
Make a pot roast sandwich. Shred the meat, add cheese of your choice to buttered bread and make an adult friendly grilled cheese (maybe even with a bit of horseradish mayo).
My aunt gave me a large Le Creuset pot several years. It really has been a game changer for me in the kitchen. You can make soups, spaghetti sauce, stews, large amounts of mashed potatoes or pretty much anything in it. More importantly, if you cook something that needs to go from stove top to oven, you have the perfect pot right there! –  Denise