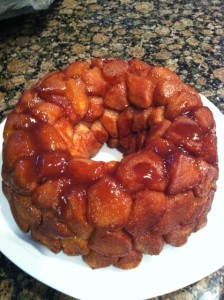 My mom used to make Monkey Bread for us several times a year when I was growing up. It was always so good and such a treat. Even my friends from childhood remember it and couldn't wait to eat it! I reserve it now only for holidays and birthdays in my house. It makes the house smell delicious and puts a smile on everyone's face!
Level of Difficulty: Easy
Time Required: Prep Time – 20 min; Cook Time – 35-45 hour
Ingredients:
4 cans Pillsbury biscuits (They come together in a 4 pack)
2 c. sugar
2-3 T. cinnamon
1 1/2 sticks butter
1/2 c. chopped pecans (optional)
Special Equipment and Other Items Needed:
Large Ziploc bag
Preparation of Monkey Bread:
Preheat oven to 350 Degrees. Spray a bundt pan with non-stick cooking spray. Combine sugar and cinnamon in a ziploc bag. Cut biscuits into fourths. Shake a few pieces at a time in the sugar/cinnamon mixture and place in bunt pan. Continue with this until you have used all of the biscuits and you have nice even layers.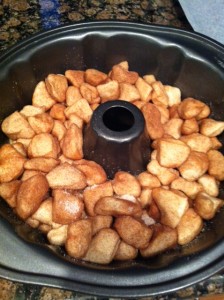 Make the topping for the Monkey Bread by melting butter in a  saucepan. Add about 1/2 cup of the leftover sugar mixture. Cook and stir until bubbly.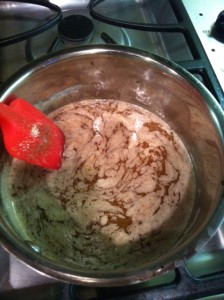 Pour over the biscuits and bake for 35-45 minutes. Let cool for 5 minutes.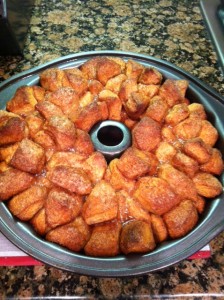 Place a plate on top of the bundt pan and invert the monkey bread. Salivate, slice and enjoy!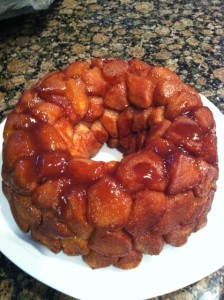 Variations:
If you want, you can line the bottom of the bunt pan with pecan halves and then scatter bits of pecans throughout the layers. Residents in my house don't eat "hot nuts" so I omit them. If you like pecans, I highly recommend using them. They are delicious in this dish!!
Got Leftovers?:
It heats up well in the microwave, but who are we kidding? Leftovers?
Nothing healthy in this but it sounds amazing!! Have to try it. –

Melissa