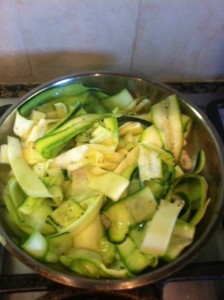 I'm pretty much the only one in my family who will eat zucchini. My kids don't like it because it's a green vegetable that is not broccoli or green beans. My husband doesn't care for it too much because it can get mushy. However, peeling the zucchini into thin strips and then quickly sautéing them make them edible and enjoyable for everyone! It doesn't take long and looks very impressive on a plate.
Level of Difficulty: Easy
Time Required: Prep Time – 5 min; Cook Time – 5 minutes
Ingredients:
3 zucchini
4 garlic cloves, minced
2 T. olive oil
salt and pepper to taste
Special Equipment and Other Items Needed:
Vegetable Peeler
Preparation of Sauted Zucchini Ribbons:
Wash zucchini and cut off the ends. With a vegetable peeler, peel the zucchini as if you were peeling a carrot. Peel strips all the way to the center of the zucchini. Heat olive oil and garlic in medium sauté pan over medium heat. Saute for about 5 minutes until heated through. Add salt and pepper to taste.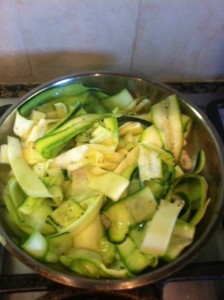 Meal Ideas:
Make some pork kabobs to serve over brown rice. Add the zucchini ribbons to the plate for a vegetable and a bit of color!