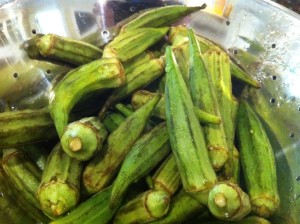 If you are a true Southerner like me, then you have the 'nack' to identify really good fried okra. I ADORE fried okra. It's fantastic all by itself and one of my more modern ways to enjoy it is on top of a Caesar salad. However, if you are a fried okra connoisseur, you know that the real key is crispiness. Soggy fried okra would have been better off stewed!
Level of Difficulty: Moderate
Time Required: Prep Time – 10 min; Cook Time – 10 min per batch
Ingredients:
Fresh, whole okra
Corn meal mix (I prefer White Lilly)
Salt and pepper
Vegetable Oil
Special Equipment and Other Items Needed:
Cast Iron Skillet
Spider spatula

Preparing Crispy Fried Okra:
Wash okra and cut into equal sized slices about 1/4 inch thick. The first key is to have them equal sized and not too thin. Once they are all cut, sprinkle with salt and pepper and toss to coat. Place in a plastic bag and add about 1 1/2 cups of the corn meal mix.
Close tight and toss to coat. Put the bag back in the fridge for about 10 – 30 minutes to help set. When ready to fry the okra, place about 1 1/2 cups of vegetable oil in the skillet. Heat over medium-high heat. Take the okra out of the fridge. Place one piece in the skillet to test heat. When the oil sizzles around it, it should be ready to add more. Don't overcrowd the pan. Fry about 4 minutes per side or until golden brown.
Flip the best you can and continue for another 4 minutes.
When done, remove from heat, drain on paper towel and immediately salt when removed from oil. Repeat with remaining okra.
Important Tips:
Oil needs to be hot, don't overcrowd the pan, salt when you remove from oil to allow some salt to stick.