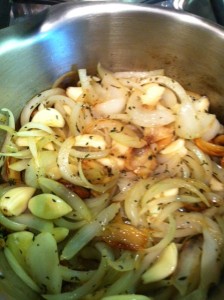 I love garlic. It's healthy and adds so much flavor to many foods. When my sister gave me this recipe from www.epicurious.com, she knew it was right up my alley. Just look at how many garlic cloves are used!! If you love garlic like I do, you MUST give this Roasted Garlic Soup with Parmesan Cheese a try. It's easy to make, but takes a few steps.
Level of Difficulty: Moderate
Time Required: Prep Time – 10 min; Cook Time – 1 hour  and 15 minutes (approximately)
Ingredients:
26 garlic cloves (unpeeled)
2 T. olive oil
2 T. butter
2 1/4 c. sliced onions
1 1/2 tsp. chopped fresh thyme
18 garlic cloves, peeled
3 1/2 c. chicken stock or canned low-salt chicken broth
1/2 c. whipping cream
1/2 c. finely grated parmesan cheese (about 2 oz.)
4 lemon wedges
Special Equipment and Other Items Needed:
Preparation:
Preheat oven to 350 Degrees. Place 26 garlic cloves a small baking dish. Add 2 T of olive oil and sprinkle with salt and pepper. Toss to coat.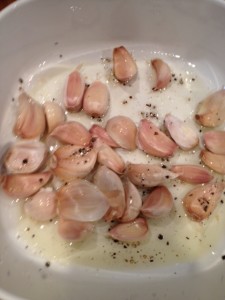 Cover baking dish tightly with foil and bake until garlic is golden brown and tender, about 45 minutes. Cool. Squeeze garlic between fingertips to release cloves. Transfer cloves to small bowl.
Melt butter in heavy large saucepan over medium-high heat. Add onions and thyme and cook until onions are translucent, about 6 minutes.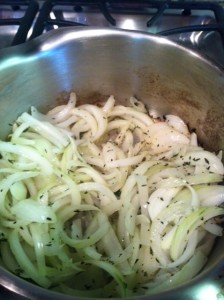 Add roasted garlic and 18 raw garlic cloves and cook 3 minutes.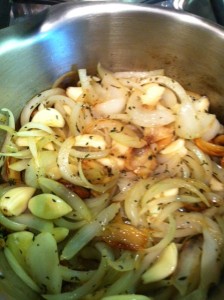 Add chicken stock; cover and simmer until garlic is very tender; about 20 minutes. Working in batches, puree soup in blender until smooth. Or, use the immersion blender right in the pot (easy and mess free). Return soup to saucepan; add cream and bring to simmer. Season with salt and pepper.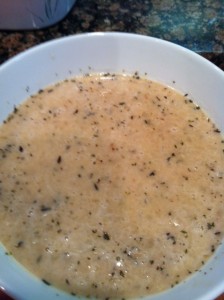 Divide grated cheese among 4 bowls and ladle soup over. Squeeze juice of 1 lemon wedge into each bowl and serve.
Important Tips:
Make sure the garlic really is tender before putting it into the blender to puree.
Got Leftovers?:
Cover and refrigerate. Rewarm over medium heat, stirring occasionally.