Gaetano Cicciotti is an old neighbor and dear friend of mine who lives in San Diego. He has an Italian restaurant in Encinitas called Cicciotti's. I recently made the Artichoke Soup (Zuppa di Carciofo) recipe from his book, Cicciotti's Kitchen.
It is truly amazing and one of the easiest homemade soups I have ever made. I just had to share it with you!!
Level of Difficulty: Easy
Time Required: Prep Time – 5 min; Cook Time – 20 minutes
Ingredients for 4 servings:
1/2 c. finely chopped yellow onion
2 T. good quality olive oil
1 c. chopped Roma tomatoes
14 oz. can whole artichoke hearts, quartered
4 c. chicken broth
1/4 c. julienned fresh basil
Salt and Pepper to taste
Garnish: Freshly grated Parmigiano-Reggiano cheese
Garnish: Homemade croutons – Cut a loaf of bread or baguette into small cubes; remove crusts. In a large bowl, toss cubes with 2 T. melted butter, and seasoning of your choice (dried herbs, garlic, salt and fresh ground pepper). Bake for about 10 minutes at 400 Degrees until crisp and golden)
Preparation of Artichoke Soup:
In a large saute or frying pan over medium heat, sauté the onion in olive oil until soft. Stir in tomatoes and cook for 5 minutes. Add artichoke hearts, cooking for 2 to 3 more minutes.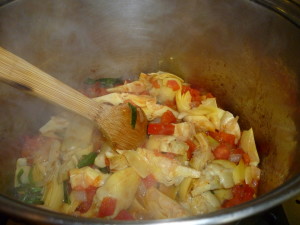 Add broth and basil. Bring to boil. Season with salt and freshly ground pepper to taste.
Garnish with cheese and croutons.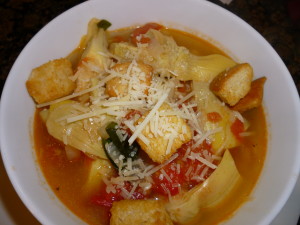 Variations:
If you don't have time to make the homemade croutons, it's ok to use good store bought ones. In a pinch, I have used the Texas Toast Garlic and Herb ones and they have been very good in the soup.
When I'm making this soup for a meal, I add a few more tomatoes and artichokes to make it chunkier and heartier. If you're making this as part of the meal, I would stick to the original recipe!!! – Denise