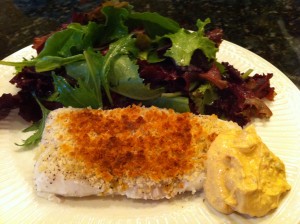 As I was meandering through Costco the other day, I saw a new product from Skotidakis called Greek Yogurt Dip – Jalapeno. It's all natural, gluten-free and has the probiotic yogurt. Sounded good to me and I was trying to think what would taste good with it. I decided on some mild flavored halibut which would take on the flavor well and be super easy to make.
Level of Difficulty: Easy
Time Required: Prep Time – 5 min; Cook Time – 15 min
Ingredients:
1 portion of halibut per person (about 6oz each)
Salt and pepper
Panko bread crumbs to top
Drizzle of extra virgin olive oil
2T Jalapeno Greek Yogurt Dip per person
Preparation:
Preheat oven to 450 degrees and a rack in the middle of the oven. Salt and pepper the halibut on both sides and place in an oven safe baking dish. Drizzle with some extra virgin olive oil and top with panko bread crumbs and a dash more of salt.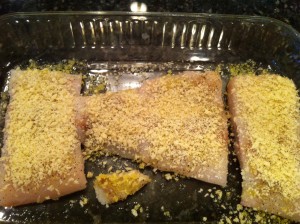 Bake until cooked just barely cooked through which will depend on the thickness of your halibut. Mine took about 12-13 minutes. Watch is carefully though. If the panko crumbs start getting too brown, gently place a piece of aluminum foil on top.
Remove and serve immediately.
Variations:
Can't find halibut? Vary the fish. I think any mild white fish would do well such as snapper or grouper.
Want to keep it gluten-free? Change the panko crumbs for smashed up gluten-free chips or crackers of your choice.
Want to make it spicier? The Jalapeno yogurt was mild so if you want to make it spicier, spread a tablespoon of Sriracha on the fish before you top with the panko.
Meal Ideas:
Shown here with just a simple salad with a homemade champagne vinaigrette. Would also be great and healthy fish sandwich or fish tacos!!
Got Leftovers?:
I ate it cold the next day but I love fish. No way Denise would ever do that!!
True! But I will find a way to use the Jalapeño Greek Yogurt in something else!! – Denise