I serve pork about as much as I serve chicken. You know…it IS the "other" white meat! It can be prepared in such a way that it is very healthy and delicious so everyone in the family is happy! Stuffed pork chops are always a good way to mix things up. They aren't as difficult to make as you might think, so you really should give it a try! I found this on the Taste of Home website. Having a well stocked pantry made it very easy to pull this recipe together at the last minute!
Level of Difficulty: Moderate
Time Required: Prep Time – 20 min; Cook Time – 40 min.
Ingredients:
4 T. chopped celery leaves
2 T. chopped onion
4 T. butter, divided
1 1/2 c. dry bread crumbs
1 1/3 c. chicken broth, divided
2 T. minced fresh parsley or 1 tsp. dried parsley flakes
1 tsp. salt
1 tsp. paprika
1 tsp. sage
1/2 tsp. pepper
1/2 tsp. thyme
4 pork loin chops (1 1/4 in. thick)
Preparing Stuffed Pork Chops:
Preheat oven to 350.
In a skillet, saute celery leaves and onion in 1 T. of butter until soft. Remove from heat. Stir in breadcrumbs, 1/3 cup broth and seasonings. Mix well. Cut a pocket in each pork chop by slicing from the fat side. Spoon about 1/3 cup stuffing into each pocket. Secure with string or toothpicks.
Melt remaining butter in a skillet. Brown the chops on both sides. Place in a greased baking dish. Pour remaining broth over the chops. Cover and bake for about 40 minutes or until juices run clear. Remove string or toothpicks before serving.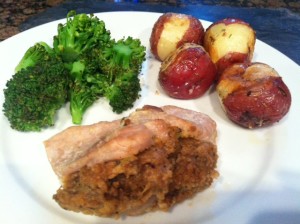 Important Tips:
Make sure you don't make the slit too far too to the other side or overstuff.
Meal Ideas:
Served here with Oven Roasted Red Potatoes and Steamed Broccoli