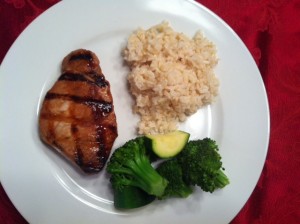 Chinese Pork Chops are so easy to make. They take little time to prepare and are much healthier than any Chinese take out food! I found this recipe on Allrecipes.com. This is actually one recipe I haven't altered since it is perfect the way it is!
Level of Difficulty: Easy
Time Required: Prep Time – 5 minutes min; Marinate time: 6 -8 hours;  Cook Time – 20 minutes
Ingredients for 6 servings:
1/2 c. soy sauce
1/4 c. brown sugar
2 T. lemon juice
1 T. vegetable oil
1/2 tsp. ground ginger
1/8 tsp. garlic powder
6 boneless pork chops
Special Equipment and Other Items Needed:
Grill
Preparing Chinese Pork Chops:
1. In a bowl, mix the soy sauce, brown sugar, lemon juice, vegetable oil, ginger and garlic powder. Set aside some of the mixture in a separate bowl for marinating during cooking. Pierce the pork on both sides with a fork, place in a large resealable plastic bag and marinate for 6-8 hours.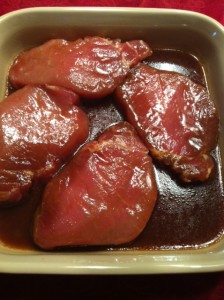 2. Preheat grill for high heat.
3. Spray the grill with non stick cooking spray. Grill pork for 6-8 minutes per side, or to desired doneness, basting often with reserved portion of marinade.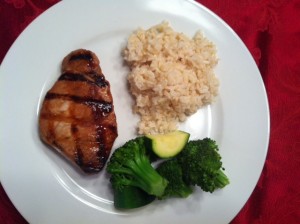 Meal Ideas:
Served here with steamed broccoli and zucchini medley and brown rice.