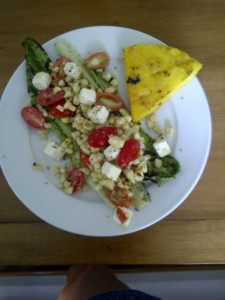 Grilled Romaine Salad with Tomato and Corn Tumble is a recipe that my friend Kim sent to me. She found it in the June 2013 edition of Better Homes and Garden. Kim will tell you that she is a beginner cook, but some of things she comes up with are amazing. The picture here of the salad is from when she made it. Pretty impressive, don't you think?
Level of Difficulty: Moderate
Time Required: Prep Time – 20min; Soak Time: 1 hour; Grill Time – 27 min.
Ingredients for 4 servings:
2-3 ears fresh corn
4 T. extra virgin olive oil
2 T. Sherry vinegar or red wine vinegar
1 T. Dijon mustard
1. T. sniped garlic chives (or 1 T. fresh chives and 1 clove minced garlic)
2 hearts of romaine lettuce, halved lengthwise
1 c. grape and/or pear tomatoes, quartered
1/4 c. crumbled feta cheese
Sea salt and fresh ground pepper
Special Equipment and Other Items Needed:
Grill
Preparing Grilled Romaine Salad with Tomato and Corn Tumble:
1. Place corn with husks and silks intact in a large bowl. Add enough cold water to cover. Let soak one hour.
2. Meanwhile, for the garlic chive vinaigrette, in a screw top jar combine 3 T of olive oil, vinegar, mustard and garlic chives. Cover and shake well; set aside.
3. Brush the romaine with remaining 1 T. olive oil and set aside. Place corn on rack over medium heat and close the lid. Grill for 25-30 minutes or until kernels are tender, turning once. Grill romaine, cut side down for 2-3 minutes or until slightly charred and wilted.
4. Place a romaine heart half on each of 4 plates. Remove corn husks and silks from ears. Cut kernels from cobs. In a medium bowls, combine corn kernels and tomatoes. Drizzle with some of the vinaigrette; toss to coat. Drizzle romaine with remaining vinaigrette. Spoon the corn and tomato mixture over romaine halves. Season with sea salt and freshly ground black pepper. Top with cheese.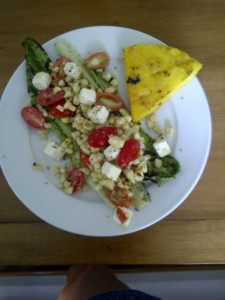 Meal Ideas:
Served here with Homemade Grilled Polenta