Have you ever noticed that sometimes the best salads are also the simplest ones? This arugula salad with parmesan is ridiculously easy and absolutely delicious. It can be a great compliment to almost any meal, or grill a piece of chicken and put it on top for a complete one dish lunch or dinner! Here's the process…
Make the Lemon Dijon Vinaigrette and chill.  Toast a handful of pine nuts in a toaster oven or in a small skillet. If you toast in a skillet, spray with non stick coating spray and watch closely to prevent burning. Stir often.
When ready to serve, mix arugula and pine nuts in a bowl. Toss lightly with dressing. Add shredded parmesan cheese and fresh ground pepper to taste. It's so good, even my 11 year old loves it!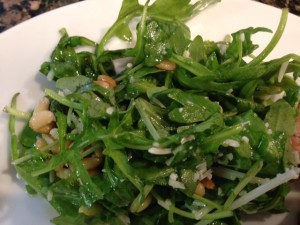 I so agree! Arugula is an amazing green with so much flavor you can just drizzle lemon juice on it and it's awesome. For a salad like this, I like to take a vegetable peeler and 'peel' long, thin slices of parmesan to go with the salad just to be a bit different. It looks pretty and the nutty parmesan pairs perfectly with the peppery arugula. -Melissa