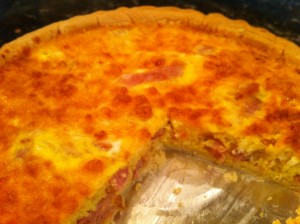 Does the word quiche have good or bad connotations in your mind? When was the last time you had a quiche? Well, I'm here to tell you that this is delicious and super simple. Preparing a quiche is one of my favorite things for overnight guests who need breakfast in the morning but you just don't have the time to do some big fancy setup. Check out this super simple ham and cheddar quiche! It's also great for a light luncheon or even dinner. Just serve with a green salad instead of a fruit salad and you're good to go!
Level of Difficulty: Easy
Time Required: Prep Time – 5 min; Cook Time – 45 min
Ingredients:
1 store bought pie crust or make your own if you like. I don't like so I buy one that is already made to perfection 😉
4 large eggs
1 cup milk
1/2-1 cup sharp cheddar cheese, grated
1/2 cup diced ham (or use sausage or bacon, just cook it first)
1 t salt
1/2 t pepper
Preparing Ham and Cheddar Quiche:
Preheat oven to 375 degrees. Crack the eggs into a bowl. Add milk, salt and pepper and whisk until incorporated. Pour into pie crust. Add ham and cheese. Bake for about 45 minutes or until done.
Variations:
Change the protein (just make sure whatever you add is cooked) or change the cheese. You can even add vegetables if you like when making a more savory quiche for lunch or dinner.
Meal Ideas:
Serve with a fruit salad for breakfast or with a green salad if for lunch or dinner. Try the easy arugula salad for a super quick meal.