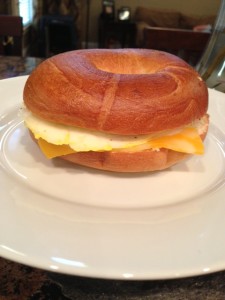 We all have our standard "go to" breakfasts for kids, especially during the school year. We need something quick and easy, and healthy is an added bonus. I started making this Breakfast Bagel Sandwich a few months ago for my family. It's about as easy as anything else that you can make in the morning and it has protein, which is key to the start of a good day.
Level of Difficulty: Easy
Time Required: Prep Time – 2 min; Cook Time – 5 min.
Ingredients:
1 bagel of choice
1 egg
1 slice of your favorite cheese
Special Equipment and Other Items Needed:
Small skillet
Non stick cooking spray
Preparing Breakfast Bagel Sandwich:
Spray your skillet with non-stick cooking spray and put the burner on low/medium-low. Put your sliced bagel in your toaster on your preferred setting and begin toasting. Add your egg to the skillet. After about a minute or two, crack the yolk. Flip the egg when the white part no longer looks very runny.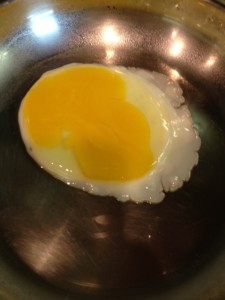 When the bagel is done, take out the bottom and put the slice of cheese on it. When the egg is finished, place it directly on the slice of cheese. Add salt and pepper if desired.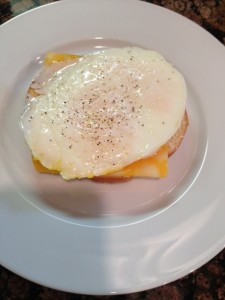 Add the top of the bagel and enjoy!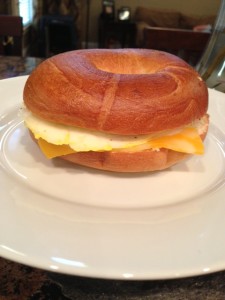 Important Tips:
If your skillet is on too high, your egg will get all bubbly and nasty around the edges. Make sure it's on medium-low.
Variations:
If you want to add some meat, add a slice of bacon cut in half. If you prefer sausage, add a sausage patty that will fit nicely into a sandwich. You can always add some tomato and spinach to throw some vegetables in your sandwich, or even a piece of thinly sliced red onion. For some added kick, why not slice up some fresh jalapeños?!!!
Ok, I'm feeling a bit inadequate. I never cook something like this for the kids for breakfast! – Melissa