Scrambled eggs are one of my favorite breakfast items. I like them much better than the texture of an omelet. However, I love the ingredients people put in an omelet with my scrambled eggs.  So, what do you do? Scramble your eggs and top it with your favorite omelet ingredients!!
Here is one of my favorites to eat for breakfast. Scrambled eggs (soft scrambled is my preferred method) topped with the Best Salsa and quality Greek feta crumbled directly over the top. Finish with a couple of twists of freshly cracked black pepper, and mmmmmm, you've got something really good…and pretty too!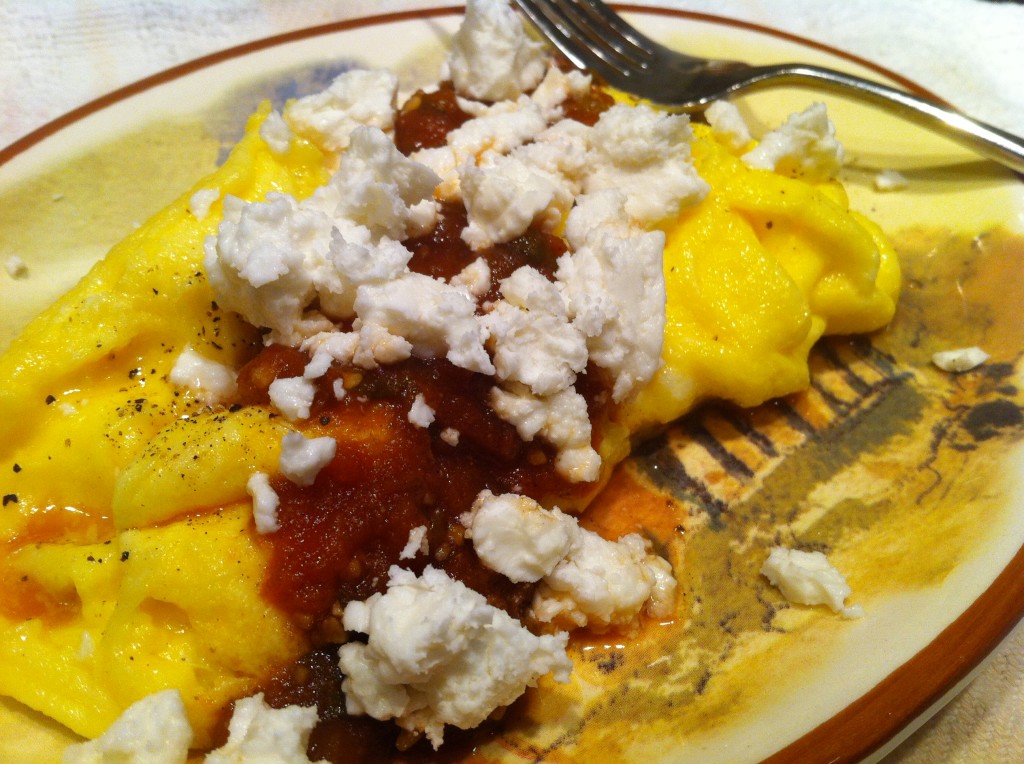 How do you scramble eggs?
My preferred method is the following:
 2 eggs per person
 Cracked into a bowl
Add about 1/8 cup of milk for every 2 eggs
Add a dash of salt and pepper for every 2 eggs
Add about small palm-full of cheese for every 2 eggs
Whisk together
Melt 1T butter for every 2 eggs in a non stick skillet over medium heat
When the butter is melted, add the eggs
Don't touch until the edges are starting to 'harden'
Then give a gentle scrape of the bottom of the pan using a rubber spatula and tilt to move the uncooked eggs underneath
Try not to scramble/stir too much
Cook to desired level of doneness. I like mine just barely done (soft scrambled)
Top with desired fresh ingredients or if the ingredients need to sauté a bit, sauté them in a separate skillet