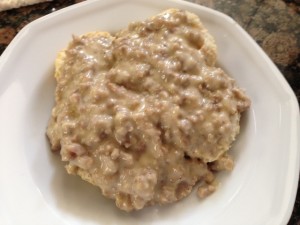 Biscuits and Sausage Gravy is one of my husband's favorite breakfast dishes. Many years ago, my sister tried to teach me how to make it but back then it seemed so hard and I never tried it again. However, for Father's Day this year, I thought I'd give it another try. I found lots of recipes and they all seemed pretty easy. I was wondering what the catch was. Well, as it turns out, there wasn't a catch. I asked my sister why it seemed so hard when she taught me and she said simply, "it was before you knew how to cook!" Here is a basic recipe that I pieced together from lots of different ones that I saw. Five ingredients…it doesn't get much easier than that!
Level of Difficulty: Moderate
Time Required: Prep Time – 5 min.; Cook Time 30 min.
Ingredients:
2 biscuits per person, cooked as directed (homemade, refrigerated or frozen – your choice)
1 lb. package of your favorite ground sausage
1/4 c. flour
2 cups of milk
salt and pepper to taste
Special Equipment and Other Items Needed:
Skillet, cast iron is the best for this
Preparation:
Preheat the oven and cook the biscuits according to directions. While the biscuits are cooking, start cooking the gravy…
Cook the sausage in a large skillet over medium heat.  When the sausage is no longer pink, add the flour and stir until it is dissolved (DO NOT DRAIN). Gradually pour in the milk, stirring frequently. Cook the gravy to desired thickness. My husband likes his gravy on the thicker side, so it cooked for about 20 minutes. Adjust the cooking time based on your personal preference. Add salt and pepper to taste.
When the biscuits are done, slice in half and arrange on a plate. Pour the gravy on top and enjoy!