I was making muffins one morning for the kids before school and ran out of muffin tins. I decided to try my hand at making muffin tops (those are already better anyway). They were a big hit with practically no clean up. A win-win for everyone! Oh…and I'll set the record straight right now. No, I don't cook breakfast like this every morning. However, I do get up way before the sun so sometimes I have plenty of time to make more than a box of cereal!!
Level of Difficulty: Easy
Time Required: Prep Time – 5 min; Cook Time – 15 min.
Ingredients:
Your favorite boxed muffin mix and appropriate ingredients.
Special Equipment and Other Items Needed:
Parchment Paper
Baking Pan
Preparing Muffin Tops:
Preheat oven to 400 Degrees. Using a ladle, pour muffin mix into a circle on parchment paper lined baking sheet. You don't want it thick like cookies or too thin like pancakes.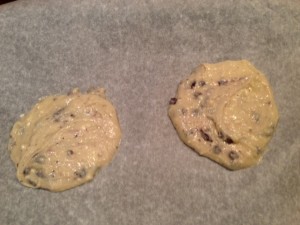 Bake for approximately 15 minutes.
Meal Ideas:
Served here with Canadian bacon and melon for a great, balanced breakfast!

So Denise wins Mom of the year, again! Who does this in the morning before school? I'm lucky to drive my kids to school without still being in my PJ's – Melissa