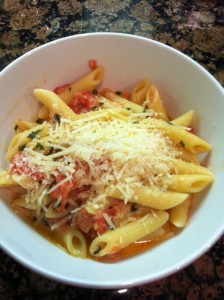 My family loves pasta and I love vodka. Don't judge..most of you do too! What better dish to make than Penne with Vodka Sauce? Since I didn't have my own recipe, I looked at my "go to" sources and found this one in the November 2012 issue of Food Network Magazine (that was a great issue, really). If you have followed our well stocked pantry ideas, you should have the majority of these ingredients on hand so this should be pretty easy.
Level of Difficulty: Easy
Time Required: Prep Time – 30 minutes; Cook Time – 40 minutes.
Ingredients:
Kosher Salt
12 ounces penne pasta
3 T. extra virgin olive oil, plus more for drizzling
1 large shallot, finely chopped
1 28 oz. can whole plum tomatoes, crushed by hand
1/4 c. vodka (plus more for the cook…just kidding)
1/4 tsp. red pepper flakes
1/3 c. heavy cream
1/2 c. grated parmesan cheese, plus more for topping
2 T. chopped parsley or basil
Preparing Penne with Vodka Sauce:
1. Bring a large pot of salted water to a boil. Add the pasta and cook as the label directs. Reserve 1 cup of the cooking liquid, then drain the pasta. Drizzle lightly with olive oil, toss and set aside.
2. Heat 2 T. olive oil in a large skillet over medium heat. Add the shallots and cook, stirring until soft, about 2 minutes. Add the tomatoes, vodka, reserved cooking water, 1/2 tsp salt and the red pepper flakes. Bring to a rapid simmer and cook, stirring occasionally, until slightly thickened (about 12 – 15 minutes).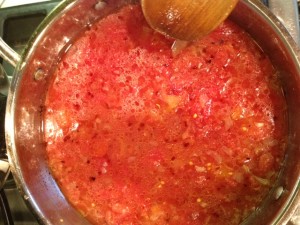 3. Stir in the cream and simmer 1 more minute.
4. Add cooked pasta, the remaining 1 T. olive oil, grated cheese and parsley/basil into the sauce. Cook, tossing 2-3 minutes. Season with salt.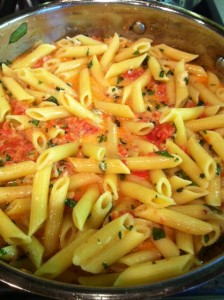 5.Divide among bowls and top with more cheese.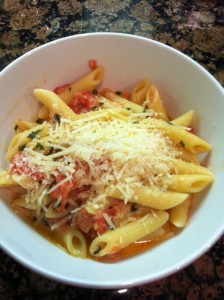 Meal Ideas:
Serve with grilled shrimp or chicken to add a protein. A nice simple salad should round out your meal nicely!