French Fries are awesome. Most people love them. When I found Emeril Lagasse's Oven Crispy French Fries with Paprika Parmesan Salt, I was so excited. I knew it would be something a little different than "Ore Ida" and a dish my family would enjoy. Here's to kicking french fries "up a notch"!
Level of Difficulty: Easy
Time Required: Prep Time – 20 minutes; Cook Time – 30 minutes

Ingredients:
2 large baking potatoes, scrubbed well
1/4 c. extra virgin olive oil
1 T. Emeril's Original Essence or other Creole Seasoning
Kosher Salt
1/4 c. finely grated Parmigiano-Reggiano cheese
1 T. sweet paprika
1/2 tsp. garlic powder
1/4 tsp. onion powder
Preparing Oven Crispy French Fries with Paprika-Parmesan Salt:
1. Preheat oven to 425 Degrees.
2. Pat the potatoes dry and cut them lengthwise into 1/2 inch thick slices. Turn each slice flat and slice again lengthwise into even 1/2 inch thick fries. Place the potatoes in a mixing bowl and add the olive oil, seasoning and 1/4 tsp. salt. Toss well to combine, then transfer the fries to a large baking sheet and arrange them in one even layer so that there are not touching.
3. Roast, scraping the potatoes from the baking sheet with a metal spatula and turning them over halfway through, until golden brown and crispy, about 30 minutes. Or, better yet, use some parchment paper on the baking sheet to prevent the sticking and the mess.
4. While the potatoes are cooking, combine the cheese, paprika, garlic powder, onion powder and 1/2 tsp salt in a small bowl and stir to blend. When the potatoes are crisp and brown, sprinkle with the paprika-parmesan salt. Serve hot.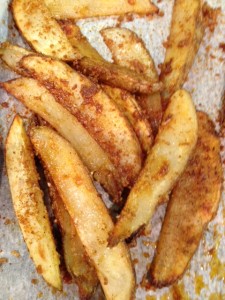 Denise likes to point out our differences. Well, here is one. She likes Emeril Lagasse and I prefer Bobby Flay or Tyler Florence 😉 Melissa