Mashed potatoes are divine and although there are rarely any leftover mashed potatoes in my house, I occasionally make more than we can eat.
One day when thinking about something different to do with the leftover mashed potatoes, I tried this.
How to make potato fritters with leftover mashed potatoes
Place the mashed potatoes in a mixing bowl (about 2 cups). Add about 1 cup of extra sharp cheddar cheese and a beaten egg. Mix together well. Place about 1/2 cup each of panko and Italian style bread crumbs on  a plate. Roll the potatoes into a ball and rolled into the bread crumbs. Repeat for all the potatoes.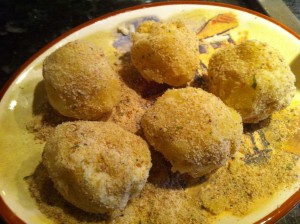 Heat vegetable oil in a skillet over medium high heat. Add the potato fritters and brown on all sides. Drain on paper towels and then serve with whatever other leftovers you might have.
Yum!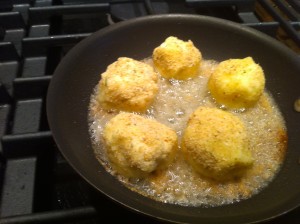 Check out our previous post on how to make mashed potatoes lump-free every time.