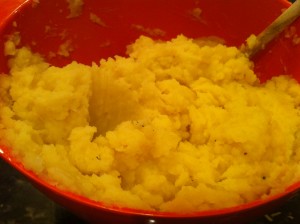 Sounds impossible, right? How can you make mashed potatoes without mashing them? And if you don't peel the potatoes, won't they be lumpy? Well, if you have problems always making your potatoes smooth and creamy, maybe investing a few bucks in one of these potato ricers is a good idea.

This little gadget allows you to quickly and easily mash the potato in one easy movement into small rice like pieces that will never create a lump. And the real plus is that you don't have to peel the potato first. When you put the whole, unpeeled potato into the ricer, only the 'meat' of the potato comes out. All the skin is left inside where you can quickly scrape it out.
Level of Difficulty: Easy
Time Required: Prep Time – 15 min; Cook Time – about 30 minutes; Final Prep – 10 minutes
Ingredients:
5lbs Yukon Gold Potatoes
about 1 cup chicken broth
about 1 cup dairy (heavy cream, 1/2&1/2, whole milk, 2%, skim – your choice – the heavier the dairy, the creamier, richer and more fattening the potatoes)
3 T butter and/or any of the following (sour cream, plain greek yogurt, mayonnaise)
Salt and Pepper
I use about 2T butter, 1 cup chicken broth and 1 cup skim milk so that they are light. If I'm having guests, I usually make them a little creamier.
Special Equipment and Other Items Needed:
Ricer – to ensure lump free potatoes every time
How to make mashed potatoes without lumps:
Wash potatoes, place in large pot and cover with cold water. Add 2 T salt to the water. Turn on high and bring to a boil. Let boil until the potatoes are done (when a fork is easily inserted through the potato).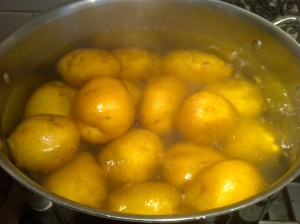 While potatoes are cooking, heat up your dairy selection and the chicken broth until warm. Doing this will help ensure your potatoes don't get gummy.
When potatoes are done, drain. Insert 1 or 2 depending on size into the ricer and squeeze until all potato is squeezed out. Open the ricer, scrape out the peel and repeat for remaining potatoes.
When all the potatoes are riced, add the butter and about 1/2 of your warmed, liquid ingredients. Stir to incorporate. Add remaining liquid ingredients to achieve the consistency you want. Add salt and pepper to taste. Serve immediately.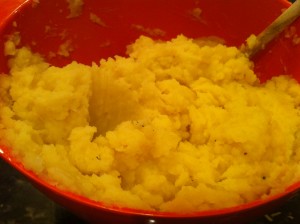 Top 4 Tips to Perfect Mashed Potatoes:
1 – Start with Yukon Gold Potatoes – these are my favorite to mash and their golden color makes you feel like you are eating potatoes filled with butter even though you are not
2 – Use a ricer for lump-free potatoes and to save you the time of having to peel the potatoes
3 – Cook the potatoes starting in cold water, don't add raw potatoes to already boiling water
4 – Warm your liquid ingredients before adding them to your potatoes so they don't get sticky
Variations to Mashed Potatoes:
Add other yummy ingredients to your potatoes. Wasabi, horseradish, roasted garlic, cheese all go well in mashed potatoes.
Try different dairy ingredients. I love Fage 0% Greek Yogurt. My brother-in-law, David, loves adding mayonnaise. Play around to find the combination that tastes just right to you.
If you've never done mashed potatoes this way, let me know what you think. What are your favorite ingredients to add to your mashed potatoes?