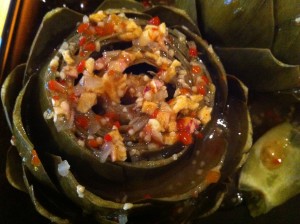 I LOVE THESE THINGS!! I make them just like I had them as a kid. They are unique and yummy and very easy.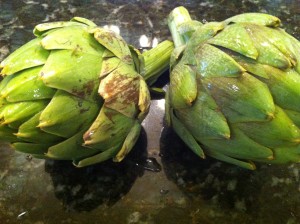 Level of Difficulty: Easy
Time Required: Prep Time – 20min; Cook Time – 30 – 40 minutes
Ingredients:
4 artichokes
1 bottle Kraft Zesty Italian Dressing
2 T Minced Onions
1 T Garlic Powder
Lemon
Water
Special Equipment and Other Items Needed:
Steamer

How to prepare artichokes:
Prepare the artichokes – Start by rinsing them with cold water. Then set them sideways on a cutting board and cut the top inch or so off.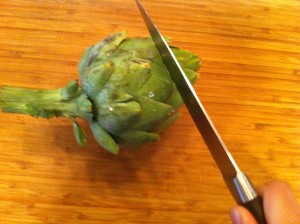 Then cut the stem off. This is optional depending on how you plan on cook them and serve them. I cut this off so the artichoke rests on its end both for cooking and serving. However, I clean off the tough outer skin and steam it with the rest of the artichoke as well. The stem is part of the artichoke heart, so it is a piece of the best part.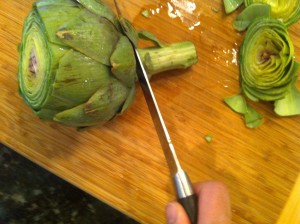 Take a pair of kitchen shears, (if you don't have a pair, you really must get one) and trim the prickly points off the top of each leaf.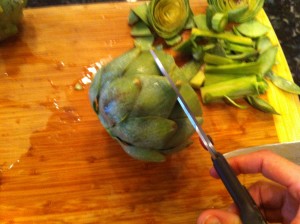 Now they are prepared to be steamed.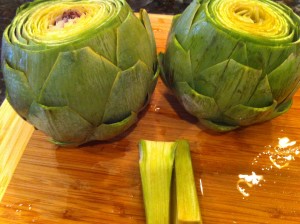 Add 2 cups of water and a two lemon halves to a large pot with a steamer basket. Add the artichokes, cover and bring to a boil. Steam for about 30 minutes. They are ready when a fork inserted into the bottom goes in easily and the outer leaves remove without difficulty.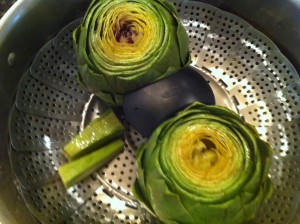 When they are ready, remove from the steamer and place in a dish for marinating.
How to make marinated whole artichokes
Sprinkle with the garlic powder and minced onions. Add the bottle of Kraft Zesty Italian Dressing and marinate for 2+ hours. I've tried other dressings and made my own vinaigrettes but I've never found anything that tastes better than the Kraft Zesty with this particular dish!!
When done marinating, decide how you are going to serve them. You can serve them whole or cut in half. If you cut in half, it would be nice of you to go ahead and remove the choke for your guests so that they don't have to struggle with it.
What is the choke of an artichoke?
Well, an artichoke is a flower. If you left it in the ground to grow, all of the green, prickly leaves would open up and expose a beautiful purple flower. However, this unopened flower has all the parts of a flower (thistle, stamen, etc.) that are not that yummy and actually quite inedible. This is what you need to remove.
To remove the choke, cut the artichoke in half to expose the inside. Make a small cut in the bottom of the choke.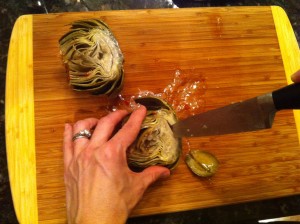 Then using a spoon, remove the very innermost part of the artichoke.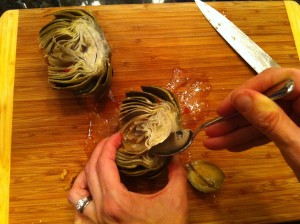 Spoon over some more of the dressing, serve and enjoy!
How do you eat an artichoke?
Take each leaf off individually and scrape the inside part of the leaf across your bottom front teeth. Once you get to the innermost leaves (not the purple ones), you can eat the entire thing. Then, after you remove the choke, you can eat the best part, the heart. This is all the 'meat' of the artichoke and is divine!
Important Tips:
Don't go too far while steaming the artichokes! You don't want the water to evaporate and burn your pan up (been there done that!). But, with quality pans, even that will clean up!