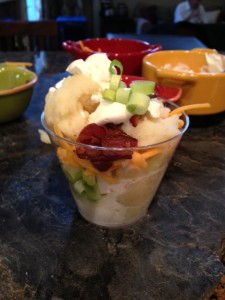 I was at an event for work last week and saw something that really caught my eye. It was a baked potato bar! The potatoes were scooped into a plastic martini cup and each individual added their own toppings. The guests were easily able to carry their potato cups around to each booth with no mess. Genius!
Level of Difficulty: Easy
Time Required: Prep Time – 15 minutes; Cook Time – 45 minutes
Ingredients:
4 russet potatoes ( or 1 per person)
1/2 c. sour cream
1 c. shredded cheddar cheese
6-8 pieces of bacon, cooked, drained and crumbled
4 green onions, chopped
2 T. butter
salt and pepper
Special Equipment and Other Items Needed:
Ice Cream Scoop
Plastic wine or martini cups
Preparing Baked Potato Bar:
Preheat oven to 350 Degrees. Wash the potatoes and pierce 3 times with a fork before putting into the oven. Baked for 45 minutes or until the potato is tender. (You know your potato is ready when a fork easily goes into it).
While your potatoes are cooking, prepare the other ingredients for your potato bar. Shred the cheese, chop the green onion and cook the bacon. Go ahead and scoop the sour cream into your serving bowl as well.
Place the butter into a mixing bowl. When the potatoes are done, cut them in half and scoop the insides into the bowl. Be careful. Your potatoes will be hot. You might want to use an oven mitt for this. Once you have scooped all the potatoes into your bowl, mix thoroughly to incorporate the butter. Add salt and pepper to taste.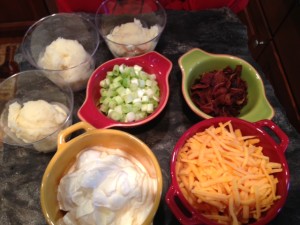 Using an ice cream scoop, scoop one helping of potato into each cup. Allow your guests to add their toppings! It's just that easy!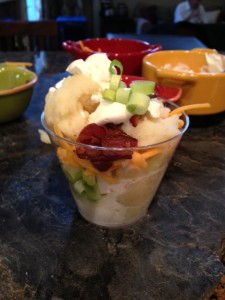 Important Tips:
When you are baking potatoes, make sure you pierce each potato with a fork 2-3 times before putting it into the oven.
Variations:
You can use whatever ingredients you like for your potato bar. Try it with steamed broccoli or different cheeses. Anything goes for this one!
Got Leftovers?:
Click here for ideas of what to do with leftover mashed potatoes!