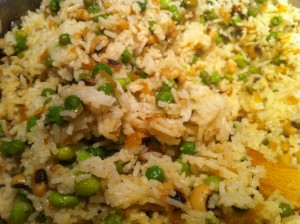 Rice is a great go to side dish for so many meals. I love it. But once again, my eyes were opened wider to a whole new realm of rice as a side dish after McNack's spent time with Asha Gomez, chef/owner at Cardamom Hill restaurant in Atlanta.
Indian rice is its own star to the main meal. When we went to the market, Asha picked up some freshly shelled garden peas (field peas and lady peas) to add to the rice. But that is only a small piece to this beautiful, fragrant and tasty dish!!
See our previous post on our time with Asha here.
Level of Difficulty: Moderate Time Required: Prep Time – 5 min; Cook Time – 30 min
Ingredients:
2 cups basmati rice
4 cups water
3-4 whole cardamom pods, crushed (I did not have so I used about 2t ground cardamom)
2-3 whole star anise (I did not have so I used about 1t anise seed that I ground in my mortar and pestle)
1 cup onion, diced
2-3 cups fresh 'peas' (Asha used lady, field and green peas; I used what I found fresh which was black-eyed peas and then added edamame and green peas)
2t cumin seed
1t tumeric
1T coconut oil
salt and pepper
Special Equipment and Other Items Needed:
A Mortar and Pestle to crush any whole spices you use.
How to Make Indian Rice:
Rice:
In southwestern India, they rarely if ever just make plain rice. They always flavor the cooking liquid with something. In this dish, we are going to flavor the water with cardamom and star anise.
So, in a large pot, add 4 cups water, 2 cups of basmati rice the cardamom, star anise, salt and a touch of vegetable oil. Turn on high. While you are waiting for it to boil (uncovered), start the vegetables. When the rice boils, reduce the heat to a low simmer and cover. Set a timer for 12 minutes. After 12 minutes, turn off the heat, keep covered (don't look at it!), and let steam for 8 minutes.
In a skillet over medium-high heat, add 2 T vegetable oil and the cumin seed. When the cumin seeds start to sizzle, add the diced onion. Saute until golden brown.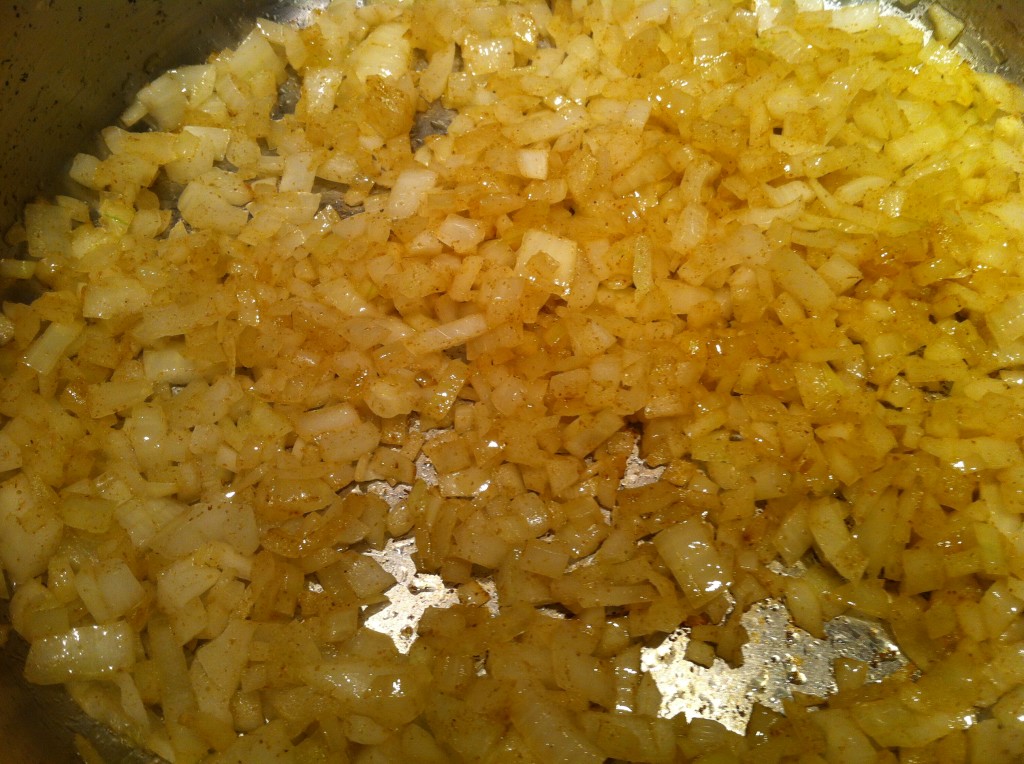 Add the peas and stir. Add the turmeric and sauté to desired doneness. Finish with the coconut oil and stir.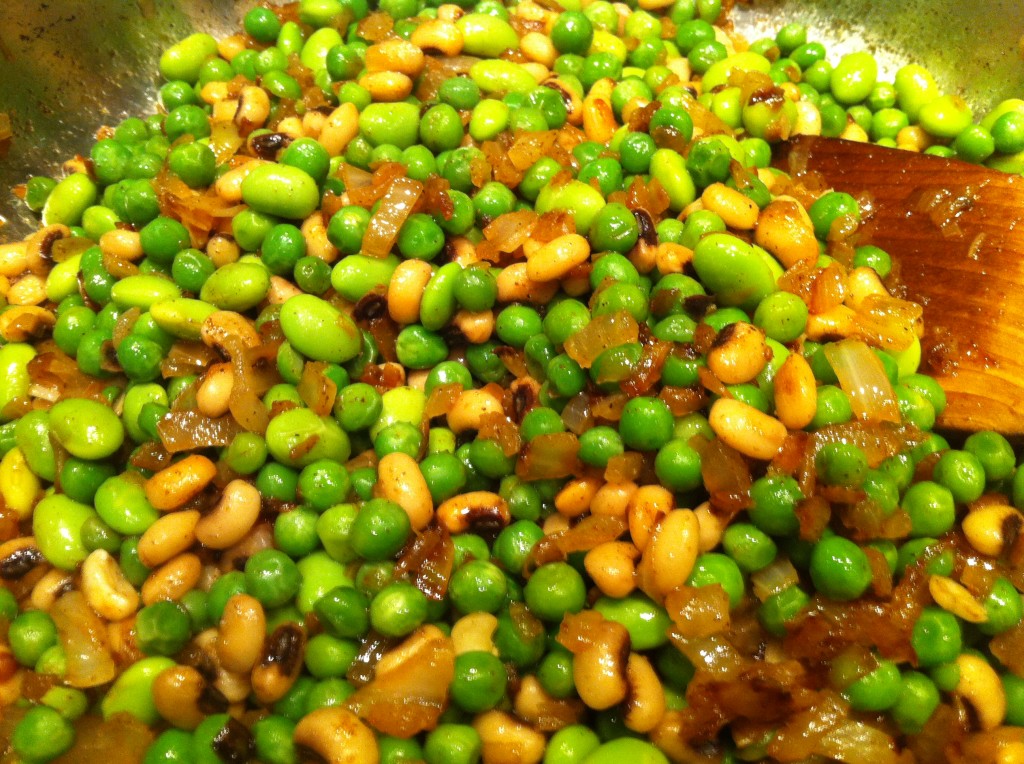 When the rice is steamed to perfection, open the pot, add the vegetables and stir to incorporate.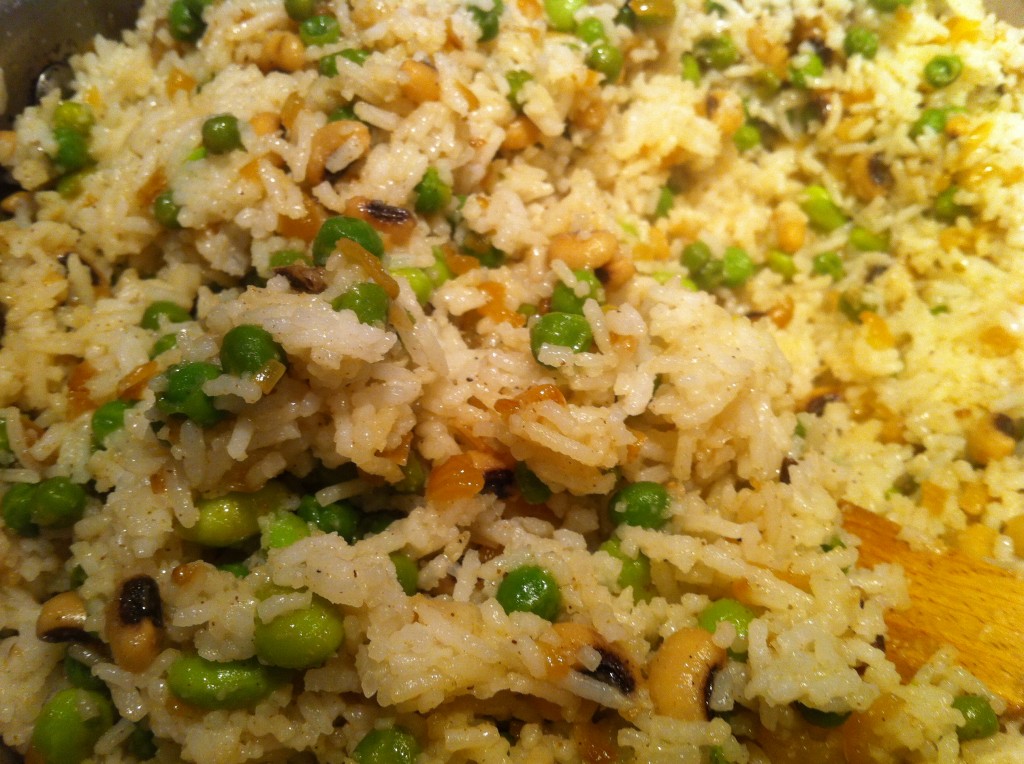 Delicious goodness!!
Important Tips:
Ignore the cooking directions on the bag of basmati. Do it this way and it will be great.
Variations:
Use any vegetables, use any spices, change your cooking liquid from water to broth….Whatever you do, let rice shine!! It does not need to be that boring clump of white stuff on your plate any more!!