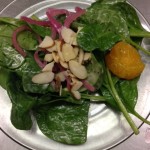 About a month ago, I was approached by the director of an interfaith group called World Pilgrims to see if McNack's was interested in catering a dinner for their group. Although we don't typically cater, the group was so interesting, we decided to make an exception. See, this organization brings together folks from many different religions so that they may work together to better understand each other's religious views and go on joint pilgrimages together. The group consists of Christians, Jews, Muslims, Buddhists, Hindus and more.
With this combination of religions came a fairly long list of special dietary needs. Certainly no beef or pork. About a dozen in the group kept Kosher. A few vegans also. Oh, and one allergic to garlic!
Denise and I put our heads together and came up with this great meal. We served 66 delightfully appreciative pilgrims without dairy, beef, pork, fish (they had that at their last meeting), or garlic! And it still tasted good!! How about that?!
Menu for special dietary needs:
Spinach salad with Pickled Red Onions, Mandarin Oranges, Toasted Almonds and Poppyseed dressing
Roasted Chicken with Mango and Tomato Chutney
Fallaffel Balls with Tzatziki Sauce and Diced Cherry Peppers
Roasted Potatoes with Dijon Mustard
Naan
Preparaing the menu was fun. Denise and I hit Costco and Publix the morning of the event and then headed to my church to do the prep work. A couple of things to note about the menu:
Roasted chicken – we did not want to do bone-in, skin-on chicken for this group so we used boneless skinless chicken breasts. However, doing that and 'roasting' the chicken would not work exactly like our recipe suggests. We cooked at a lower temperature (about 375) and we topped the chicken with a generous amount of the chutney so it would not be dry.
The poppyseed dressing, tzatziki, cherry pepper relish, falafel balls and naan were all store bought. You just can't do it all!
The falafel balls were for the Kosher folks and vegans. We added the tzatziki but since that has garlic and dairy, we also served the cherry pepper relish too.
We had a great time and what a fantastic experience and a fantastic group of people!