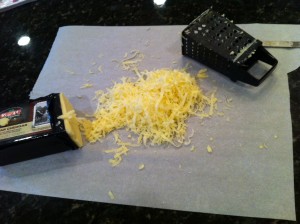 Sometimes, when I'm grating cheese, I just don't need enough of it to warrant pulling out the food processor which then requires to be cleaned! However, I prefer freshly grated cheese to packaged grated cheese any day of the week. It ALWAYS tastes so much better.
I'm not saying I don't buy the pre-grated stuff because I do. I just use it when I'm in a real bind for time.
However, here are a few tips for grating cheese with a box grater.
1) Make sure your cheese is really cold to help prevent it from sticking too much to the grater. You can always stick it in the freezer for a few minutes to help with this.
2) Grate over a piece of parchment or wax paper to avoid mess. I used to try and grate directly into a bowl and it always seemed like half of it would end up on the counter or floor. This makes life easy.
3) Don't use a box grater to slice or finely shred cheese. My favorite thin slicer is a vegetable peeler, works much better and my favorite to finely shred cheese is a microplane