Ok, so you're busy, we get it! We are too and please don't think we make crazy gourmet meals for our families every night. However, even if you only have the time to go through a drive thru, you have time for this quick 10 minute meal idea!
Ham Steak
Steamed Broccoli with lemon
Orzo with butter and parmesan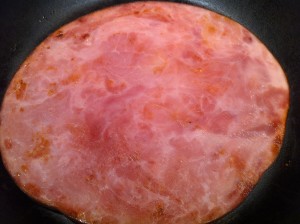 Here's how to do it.
Run in the door after a long day, grab a pot, add about 3 cups of water, place on the stove on high.
 Grab another pot, add about an inch of water and your steamer insert and then add some fresh broccoli and cover it. Place on the stove but don't turn it on yet.
Grab a skillet and a ham steak. I like the Smithfield ones you can find at most super markets. Remove from the packaging and add to the skillet without any of the juice. Again, don't turn on yet.
Set the table
The water is probably boiling now, add salt and the orzo.
Turn on the skillet with the ham on medium high heat. After about 3 minutes, turn the ham steak over.
 Test the orzo. When it is done, turn on the eye for the broccoli and remove the orzo from the stove and drain. Put back into pot you cooked it in and add 2 T butter, 2T olive oil, salt, pepper and parmesan cheese. Stir and set aside.
 Remove the ham from the stove, place the ham steak on a cutting board and cut into serving pieces.
Plate the ham and the orzo.
The broccoli is probably steamed enough now. Plate the broccoli, sprinkle with salt and drizzle with lemon juice on each plate.
Serve
Ok, maybe it's 12 minutes, but whatever! This is a quality and mostly healthy and extremely inexpensive meal for a family of 4!!
Pictured here with leftover macaroni and cheese instead of the orzo – even better and easier!!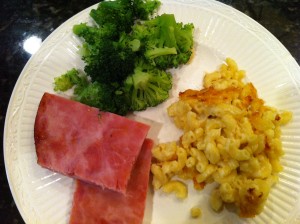 …and if you've had that really long day where you run in the door and immediately grab pots and pans, do yourself and your family a favor. Take 30 seconds to grab a glass of wine. Screw top will save you time!!! – Denise