Ok, first let's get this part out of the way because I know Denise is totally going to make some snide comment about my use of the word 'charcuterie' instead of cured meat or something else. Well, please forgive me. I did take French for 11 years and I just love the sound of the word – charcuterie (imagine someone with a heavy Parisian accent wearing a beret with a pencil thin mustache having that roll off their tongue).
Whatever you call it – meat and cheese platter or charcuterie et fromage – it doesn't really matter. The bottom line is that people love it. But not all charcuterie platters are created equal. Here are a few great tips to make yours as great.
How to make an awesome charcuterie platter
 Pick your meats and cheeses to compliment each other and the rest of your menu. You can find meats and cheeses from Spain, France, Italy, England, etc. I generally like to stick with items from the same region. All of the items are marked with where they are from, so check it out. Or, better yet, ask the expert behind the counter!
Vary the type of meats – charcuterie can be beef, pork, duck, rabbit, organ meats and "mystery meats". Choose a few different ones. Same thing with the cheeses – pick a cow, sheep and goats milk cheese
Vary the tastes of the types of meats – some are spicy or buttery or salty. Try to pick some variation here too.
Vary the texture – some are really chewy or just a little chewy and some are spreadable and soft like pate or rillettes. Again, same with the cheeses. Choose a soft, medium and hard cheese.
Add great accompaniments – sweet and spicy go great with a charcuterie and cheese plate. There are great fruit based items like a chutney or the fig and almond cake pictured below. Olives and pickled peppers also go great with a charcuterie platter.
Pick some good crackers. You want things that won't take away from the flavors of the cheeses and meats. Buttery Ritz or salty saltines are probably not the best for a nice cheese – save those for peanut butter.
Presentation – I like to mix it up with some things nice and neat and some things in a little pile of yumminess. Slice some of the cheeses for your guests that might be difficult and leave others whole. Really, just about anything goes. Have fun with it – but pay attention to it.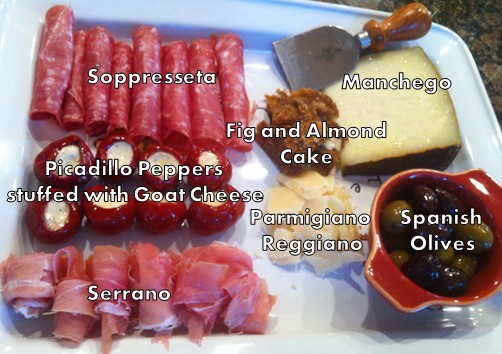 In this platter, we went with a Spanish theme. Some of my favorites!