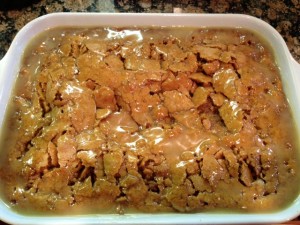 Scott Peacock's Apple Cake is one of the most amazing desserts I have ever put in my mouth.  After it cooks it is topped with a delicious glaze that makes the cake so moist and full of flavor. If you haven't ordered his book yet, The Gift of Southern Cooking, you might want to consider doing so. It really should be a staple in your cookbook library. I'm not a baker and don't really enjoy baking, but I'll pull out the sugar, flour and baking soda for this one!
Level of Difficulty: Moderate
Time Required: Prep Time – 30 min; Cook Time – 1 1/2 hrs.
Ingredients:
1 3/4 c. plus 2 T. vegetable oil
2 1/2 c. sugar
4 eggs
3 3/4 c. White Lily all-purpose flour
1 1/4 tsp. baking soda
2 1/2 tsp. cinnamon
1/2 tsp. nutmeg
1/2 tsp. salt
2 1/2 cups chopped Granny Smith apples (peeled and cored)
1 1/4 cups chopped pecans
2 1/2 tsp. vanilla
GLAZE:
2 sticks unsalted butter
1/2 c. sugar
1/2 c. light brown sugar
1 c. heavy cream
Special Equipment and Other Items Needed:
Kitchen Aid Stand Mixer –  It is a must have for the this recipe. I probably would't make apple cake if I didn't have one.
Preparing Scott Peacock's Apple Cake:
Preheat oven to 300 Degrees.
Place vegetable oil and sugar into mixer and mix well until light in color. Add eggs one at a time and mix well after each addition.
Sift together flour, baking soda, cinnamon, nutmeg and salt. Add to sugar and egg mixture. Blend together well.
Add apples, pecans and vanilla. Mix well to incorporate all ingredients. Pour into a buttered and floured 13×9 baking pan. Spread and even out batter in the pan. Bake for 1 – 1 1/2 hours.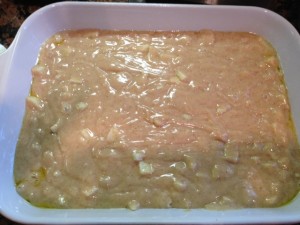 Start checking for doneness after 45 minutes. Meanwhile, prepare your glaze. Melt butter in sauce pan. Add both sugars. Stir until well blended. Cook over med-low heat about 3 minutes. Whisk in heavy cream, simmer for 2 minutes, stirring constantly.
When cake is done, poke small holes over the top of the cake. Pour warm glaze over the top of the cake.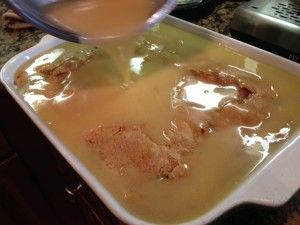 Got Leftovers?:
The apple cake re-heats well in the microwave.