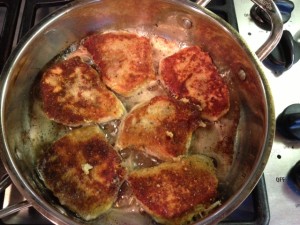 Baked Pork Chops with Sage Parmesan Crust are great to make on a busy weeknight or when you are having friends over on the weekend. They are easy and delicious. You can make just about any side dish to go along with them. The recipe was found in Bon Appetite Magazine. As we have said before, this really is a great magazine for novice and experienced cooks! If you don't subscribe to it yet, you should consider doing so.
Level of Difficulty: Easy
Time Required: Prep Time – 10 min; Cook Time – 25 min.
Ingredients:
1 1/2 cups fresh breadcrumbs made from crustless French bread
1 c. freshly grated Parmesan cheese
1 T. dried sage
1 t. grated lemon peel
2 large eggs
1/4 c. all purpose flour
4 bone-in center cut pork loin chops
2 T. butter
2 T. olive oil
Lemon wedges (optional)
Orange wedge (optional)
Special Equipment and Other Items Needed:
Preparing Baked Pork Chops with Sage Parmesan Crust:
Preheat oven to 425 Degrees. Mix breadcrumbs, cheese, sage and lemon peel in pie dish. Whisk eggs in medium bowl to blend. Place flour on plate; season generously with salt and pepper. Coat pork chops on both sides with flour; shake off excess. Dip chops into eggs, then coat on both sides with breadcrumb mixture.
Melt butter with oil in heavy large overproof skillet over medium-high heat. Add pork chops to skillet and cook until golden brown, about 2 minutes per side.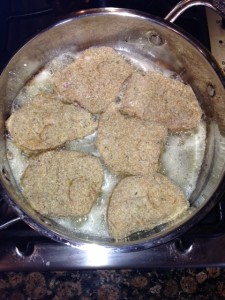 Transfer skillet with pork to oven. Bake until pork is crisp on the outside and meat thermometer reads 160 Degrees, about 20 minutes.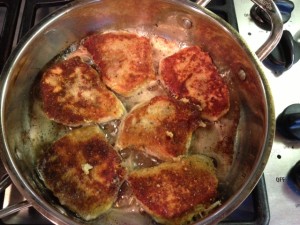 Transfer pork to plates. Garnish with lemon wedges and orange wedges, if desired.