I make up random spice mixes all the time to put on fish, chicken, pork, and steak. You really can't go wrong if you keep the following in mind:
1) What YOU like!
2) What meat you are serving.
3) What else you are serving.
This is a simple, not too spicy, blackened seasoning I like to use on fish like tuna that I intend to just sear in a very hot pan.
Level of Difficulty: Easy Time Required: Prep Time – 5min, Cook Time – 4 min
Ingredients for Blackening Spice:
1t cayenne
1t sweet paprika
2t garlic powder
2t chili powder
1t Kosher salt
1t black pepper
Hot to make your own blackened spice rub:
Just mix them together. The above quantities are enough for 2 well seasoned pieces of meat.
Blackened Fish:
Place this on a couple of nice tuna steaks and sear in some oil for about 2 minutes a side on high heat. Slice and serve. Top with something fresh like a tomato or fruit based salsa.
Same thing for really any piece of fish. Really should not take more than 2 minutes per side.
Picture is of blackened tuna topped with cowboy caviar and served with spinach and feta stuffed portabella mushrooms.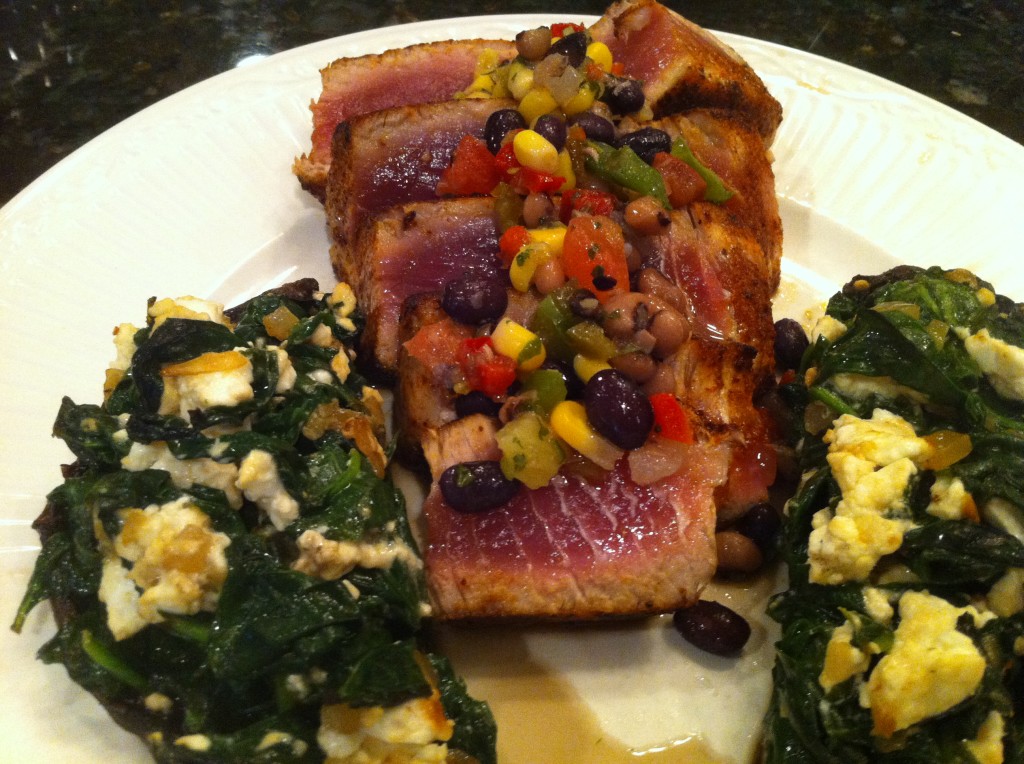 Important Tips:
Make more if you like and save it. I don't do this because I like to change things up and how I feel from day to day changes. Also note that I never actually measure these quantities. It's just a feel thing.
Variations:
Whatever YOU like!!! Seriously, trust yourself.