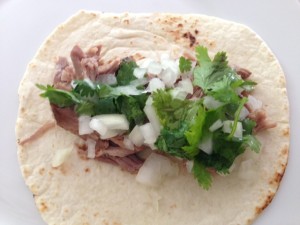 Carnitas are something I started eating when I lived in San Diego. They are so good and add a great variety to the basic beef or chicken taco! Like many of you, I am busy. As much as I would like to cook for hours almost every night, the reality is that I just don't have the time. This recipe allows for a delicious home cooked meal that takes you virtually no time to prepare. That is the beauty of a crock pot!
Level of Difficulty: Easy
Time Required: Prep Time – 5 min; Cook Time – 8-10 hours
Ingredients for 10 + people:
2 tsp. salt
2 tsp. garlic powder
2 1/2 tsp. cumin
1 tsp. coriander
1/2 tsp. cinnamon
1 6-7 pound boneless pork shoulder roast (Pork Butt)
3 cups chicken broth
Special Equipment and Other Items Needed:
Preparing Carnitas:
Mix all of the spices together in a small bowl. Rub all over the pork.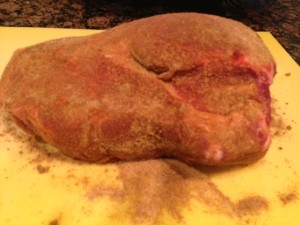 Place in the crock pot. Pour the chicken broth into the pot, being sure not to pour it directly onto the pork so you don't wash the spice mixture off. Cook on low for 8-10 hours until pork can easily be shredded with two forks.

Meal Ideas:
Serve as part of a taco bar or Mexican Fiesta!
Got Leftovers?:
The cooked meat will freeze well for use at another time, or just make carnitas quesadillas!
I love carnitas and I love the idea of a no hassle crock pot version. This is the recipe I've used for years and it gets you some of the crispy pieces too (which I like). I bet I could do it your way and just crisp up some pieces in the oven at the last minute just as easily – Melissa