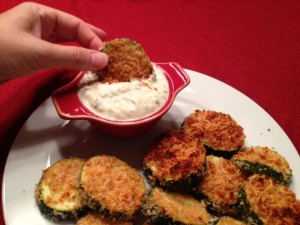 I had a very large zucchini in my refrigerator that I had bought from my local grocery store. I was looking for a new way to cook it and remembered that I had recently seen something about "zucchini crisps". Evidently, zucchini crisps are the new potato chip! They are healthy, kid friendly and easy to make. You can serve them as a side dish or an appetizer.
Level of Difficulty: Easy
Time Required: Prep Time – 10min; Cook Time – 30 minutes
Ingredients:
Zucchini Crisps:
1-2 zucchini, sliced into 1/4 in. rounds
1/4 c. milk
1/4 c. panko bread crumbs
1/4 c. grated parmesan cheese
1/2 tsp. garlic salt
1/2 tsp. garlic powder
1/4 tsp. pepper
1/2 c. shredded parmesan cheese
Basil Dipping Sauce:
1/4 c. plain greek yogurt
1/4 c. chopped fresh basil
1 T. horseradish sauce
3 tsp. Dijon mustard
4 garlic cloves, crushed
Special Equipment and Other Items Needed:
Preparing Zucchini Crisps with Basil Dipping Sauce:
Preheat oven to 425 Degrees. Spray a wire rack with non-stick cooking spray and place the rack onto a baking sheet. Combine the grated parmesan, breadcrumbs, garlic powder, garlic salt, and pepper in a mixing bowl. Place the milk in a separate bowl. Dip the zucchini rounds in the milk. Dredge the rounds in the breadcrumb mixture. Place on wire rack. Sprinkle with shredded cheese. Bake for 30 minutes until crisp.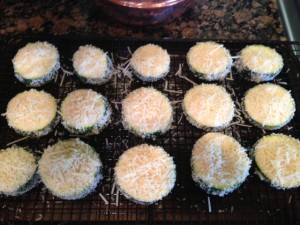 While the zucchini is baking, make the Basil Dipping Sauce. Combine all ingredients in a small mixing bowl and mix well. Put in the refrigerator to chill (can be made ahead of time).
When the zucchini crisps are done, transfer to platter. Scoop the dipping sauce into serving bowl. Serve immediately!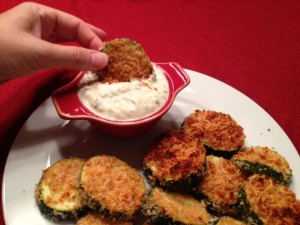 Variations:
Try a different dipping sauce if you like, maybe even a marinara!