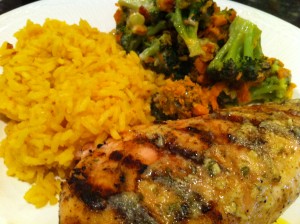 I like to cook fresh food almost all the time. Every now and again though, I prefer to succumb to the requests of little children! Well, ranch grilled chicken is one that is somewhere on the line between them both. Very tasty and somewhat healthy.
Level of Difficulty: Easy Time Required: Prep Time – 2 min; Cook Time – 20-30 min
Ingredients for 4 people:
4 chicken breasts (boneless skinless or bone and skin, your choice)
8 T Hidden Valley Ranch Dry Seasoning
2 T salt
2 T olive oil
Special Equipment and Other Items Needed:
Grill if you got it, if not, the broiler in your oven will work too.
Preparing Ranch Grilled Chicken:
Season the chicken with salt and 6 T of the ranch seasoning. The other 2T of ranch seasoning mix with the olive oil. Grill the chicken breasts until done. Boneless skinless should be around 15-20 minutes. Bone in and skin in should be 20-30 minutes. After they are cooked, drizzle the olive oil and ranch seasoning blend over the top and serve! So tasty!
Meal Ideas:
I served this with yellow rice and broccoli casserole.
How is that not cooking fresh? You didn't heat up frozen nuggets and serve them with a side of ranch dressing? – Denise