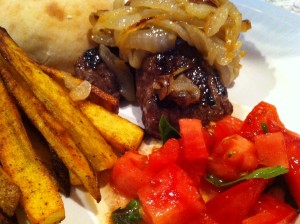 My brother-in-law gave Mark and I steaks from Kansas City Steak Company as a gift to help me out on those crazy days when you just don't have time to get it all done. The great thing here is that the steaks he gave are what KCSC calls sandwich steaks. They were perfect because they took no time at all to thaw or cook.
I was able to scrounge through the fridge and pantry to pull this together in no time flat with no trip to the grocery store!! Amen Brother!
Ingredients:
Caramelized onions:
1 Vidalia onion
2T olive oil
Pan seared steak:
4 sandwich steaks
Seasoning salt (I used the Kansas City one but Slavo's or your own would be great)
Tomato salad:
2 large tomatoes
fresh basil
salt and pepper
Oven Fries:
3 russet potatoes
olive oil
salt and pepper
How to make pan seared steak with caramelized onions and homemade oven fries in less than 45 minutes!!
5:30pm –  I grabbed the steaks out of the freezer and set on the counter. Turned the oven on 450 degrees. Grabbed the potatoes and washed them. Set out the cutting board, knife and baking sheet.
5:35pm – Cut the potatoes into wedges. Toss with salt, pepper and olive oil. Tear off a sheet of parchment paper (optional but cleanup is super easy) and set on a baking sheet. Add the potatoes and place in the oven.
5:40pm – Grab a skillet and a large onion. Peel the onion and then slice into thin rings. Place 2 T olive oil in a skillet over medium-low heat and add the onions. Toss to coat in the oil.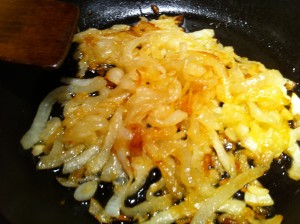 5:45pm – Turn the steaks over and set on a different area of the counter. The cold has transferred onto the counter top so moving will allow more heat to transfer. It's simple physics really. Wash off my cutting board and knife from the starchy potatoes. Grab the tomatoes and a serrated knife. Stir the onions.
5:50pm – Dice the tomatoes, sprinkle with salt and place in a serving bowl.
5:55pm – Pick some basil (I said that just for you Denise), rinse it, wrap it in a paper towel. We'll cut this later. Stir the onions
6:00pm – Remove the steaks from the package, separate, place on a plate and season with the seasoning salt.
6:05pm – Toss the potatoes a bit. Grab a pan for the steaks. I used my flat griddle so I had enough room. Drizzle a bit of olive oil on it and turn on high.
6:07pm – Add the steaks to the pan, sear on each side for about 4 minutes. Toss the potatoes and onions while waiting on the first side. Chop up some basil and add to the tomatoes while you wait on the other side.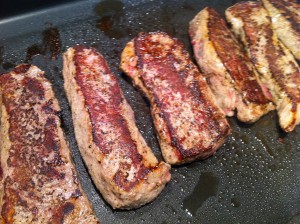 6:15pm – call everyone to dinner, serve it up and enjoy!