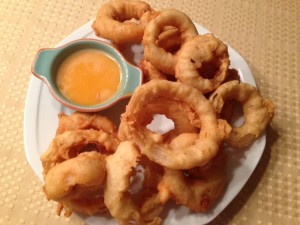 Onion Ring Batter is not that difficult to make. The key is to let it rest and stir ingredients in carefully. I recently had a bunch of onions leftover from who knows what and I was trying to figure out what to do with them. Then a lightbulb went off! Let's make homemade onion rings!! It's something fun to do with the kids…just remember safety first around the hot oil.
Level of Difficulty: Moderate
Time Required: Prep Time – 10 min plus one hour to rest; Cook Time – 15-20 minutes
Ingredients:
3 cups of all purpose flour
2 eggs, separated
1 cup 'real' beer (by real, I mean not light or watery)
4 T. butter, melted
2 T. Slavo salt
3 – 4 large onions, cut into think rings
2 1/2 quarts vegetable oil
Special Equipment and Other Items Needed:
Preparing Onion Ring Batter:
Sift your flour into a large mixing bowl, reserving 1 cup. In a separate bowl, whisk egg yolks. Add the beer, butter and salt. Slowly stir the egg yolk mixture into the large bowl of flour and mix well. Let the mixture sit for about an hour.
Slice onions into 1-1/2 inch thick slices.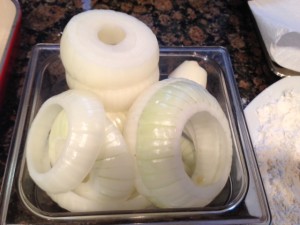 Heat the Fry Daddy to 375 Degrees. In a small bowl, beat egg whites until they are stiff. Gently stir egg whites into batter. Coat each onion with the reserved flour, then dip into batter. Fry until golden brown.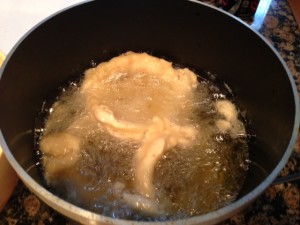 Drain on paper towels.

Important Tips:
Make sure your oil is hot before dropping your onions in. Test it first by putting in a drop of batter. If it sizzles, it's ready!
Meal Ideas:
Serve as an appetizer with garlic sriracha aioli or as a side dish to any casual meal.