I was in the mood for spinach stuffed mushrooms, but since I knew no one else would eat them, I made them on a night that would be easy for me to make multiple dishes. I had no real plan except for the marinade for the mushrooms and the sauted spinach. I had no feta in the house (my usual go-to cheese for stuffed mushrooms) so I opted for Swiss instead. I figured that would go well with the mushrooms. I added some prosciutto for protein and a tomato for color. This would be a great appetizer to share or a full meal.
Level of Difficulty: Easy
Time Required: Prep Time – 5-10 min; Cook Time –  5 min.
Ingredients:
1/8 c. olive oil + a splash for sautéing
1/4 c. balsamic vinegar
1 T. dijon mustard
2-3 portobello mushroom caps, washed and stem removed
1 bag of fresh spinach
4-6 slices of prosciutto, chopped
1 Roma tomato, diced
2-3 slices of Swiss cheese
Salt and pepper to taste
Special Equipment and Other Items Needed:
Pastry Brush
Preparing Spinach Stuffed Mushrooms:
Preheat grill to medium. Whisk the olive oil, vinegar, and mustard together in a small bowl. Using a pastry brush, brush the mixture over both sides of the mushrooms. Let sit in a dish while preparing the other ingredients. Saute prosciutto in a pan with a splash of olive oil. Once it starts getting crispy, add the spinach. Cook until the spinach is wilted. Add salt and pepper to taste. Drain well. Spoon the mixture into the mushroom caps. Add the diced tomatoes.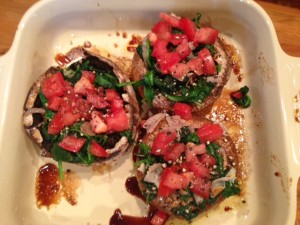 Top with a slice of Swiss cheese. Grill, with the top down, for about 5 minutes, or until cheese is melted.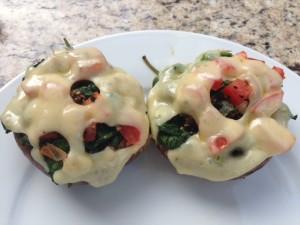 Variations:
You really can put anything you want in these mushrooms. Make them your own with the ingredients that you love. Here is one Melissa made a while back for a slight twist.