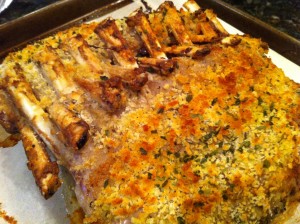 Rack of Lamb is one of those seemingly decadent meals that my family just adores! It is a special treat every now and again but since my mom was in town, special treat time it was!
Rack of lamb may seem intimidating but it really is not that hard to cook. I'll give you a few simple tips to make it worth your while.
1) Start with good lamb. Colorado lamb is my favorite but New Zealand lamb is easier to get. Regardless, make sure it is fresh and from a place you trust the meat.
2) Season heavily! Lamb can stand up to strong flavors and should be served with strong flavors. This recipe is heavy on the garlic and Dijon mustard and makes all the difference.
3) Don't overcook. I know there are a lot of you out there who like well done meat. Lamb just won't work well done. If you can't make yourself cook it medium to medium-rare, lamb is probably not the meat for you 🙁 sorry!
Level of Difficulty: Moderate
Time Required: Prep Time – 15min; Cook Time – 20 -25 min depending on size and doneness
Ingredients (for 4-6 people):
2 racks of lamb
5 cloves of garlic, minced
4-5 T Dijon Mustard
1 1/2 T Coarse Kosher salt
1 T fresh cracked black pepper
1/3 cup Panko bread crumbs
1 T parsley
Special Equipment and Other Items Needed:
How to prepare rack of lamb:
Preheat the oven to 450 degrees. Generously cover the top and bottom of the racks with coarse Kosher salt and black pepper. Then rub the racks all over with the minced garlic. Top with the Dijon mustard and rub it all over the racks too.
Place the racks, fat side up, in the roasting pan. I tried to make mine pretty by joining the frenched bones together.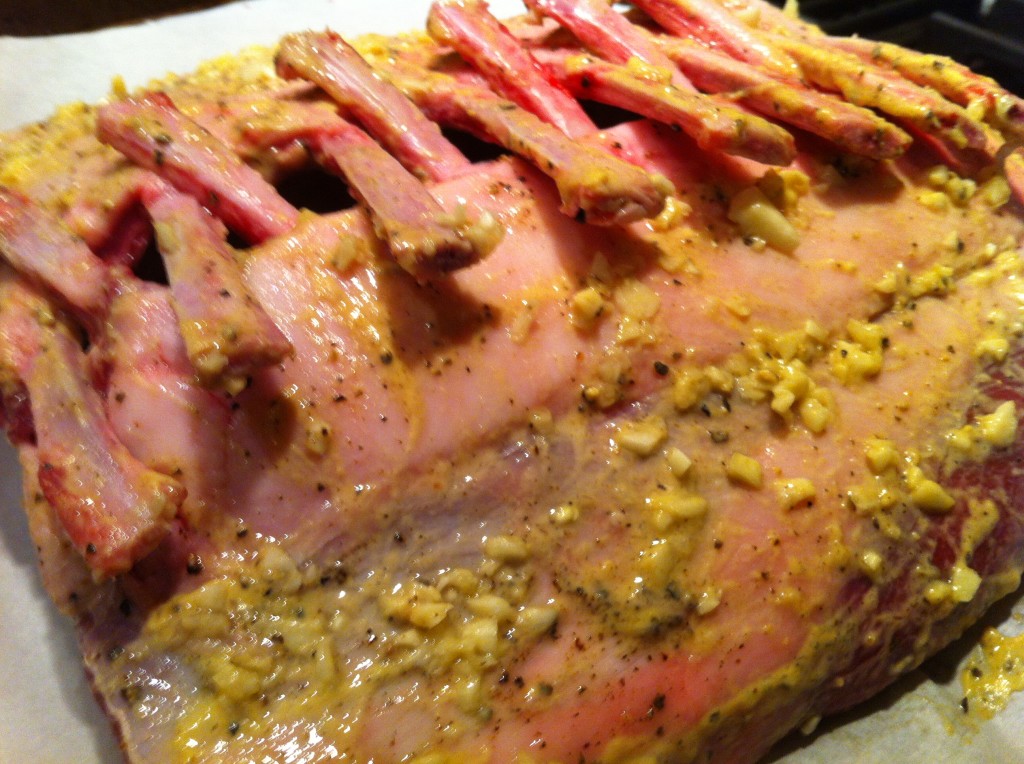 Place in the oven on the middle rack for about 10 minutes. Remove and cover the top of the racks with panko bread crumbs and return to the oven.
Cook for 10-15 more minutes until the temperature reaches about 130 degrees in the center away from the bone. This is also one of those meats where it is easy to tell by touch if it is done. If you press in the center of the rack on the meaty side, the 'give' in the meat should be beyond mushy but not yet firm.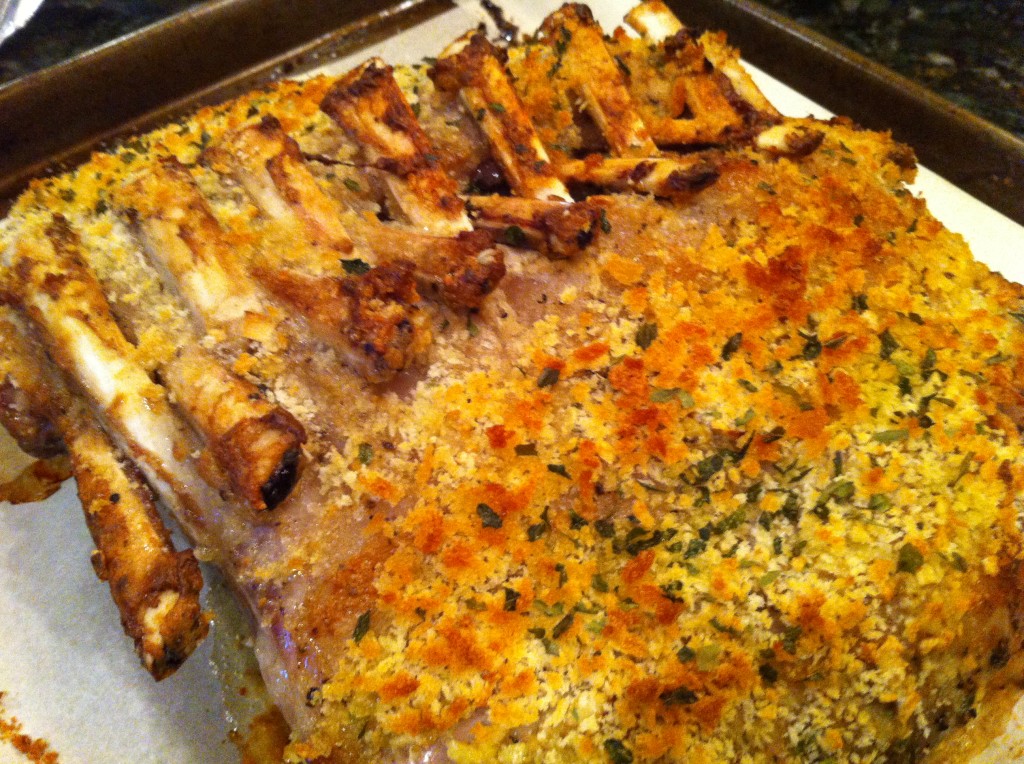 Let the rack of lamb rest for at least 5 minutes.
Slice through the spaces in the individual bones. Serve 2-3 pieces per person and enjoy!!
Meal Ideas:
Served here with braised savoy cabbage and roasted white sweet potatoes!