My daughter loves Caesar salad with sautéed shrimp. Last week, we had a very hectic weeknight schedule and I didn't have a lot of time to spend in the kitchen cooking, so salad was for dinner! I had some leftover grilled chicken that I used for my son's salad and treated my daughter to some shrimp! It makes for a very easy and relatively healthy dinner. Note: Melissa laughed at me when I told her about putting this on the blog. I know it's easy and basic, but sometimes it's these types of meals that people tend to overlook!!
Level of Difficulty: Easy
Time Required: Prep Time – 5 min.; Cook Time – 10 min.
Ingredients:
Romaine lettuce
shredded parmesan cheese
Caesar dressing (we use Girard's Light Cesar)(Melissa likes the Bolthouse Farms made with yogurt)
Croutons (if desired)
6-8 shrimp per person (peeled and deveined)
2-3 T. olive oil
3-4 cloves crushed garlic
salt and pepper to taste
How to make Caesar salad with Sauteed Shrimp:
Heat the olive oil and garlic over medium heat. Add the shrimp and sauté approximately 5 minutes per side. Add salt and pepper to taste. Meanwhile, add the desired amount of lettuce into a bowl and toss with your favorite dressing (tossing ahead of time is key!). Put on your plate. Sprinkle with cheese and top with croutons. Add the shrimp and dig in!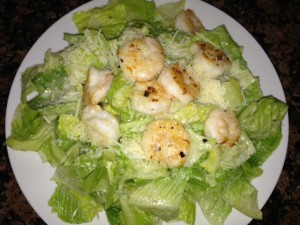 For the record, I chuckled because of Denise bragging about a salad being a 15 minute meal, not because of the concept!! Love ya Denise!! – Melissa