Grilled Chicken and Broccoli Pasta was something I created after I was going through a Cooking Light magazine and found a recipe for Grilled Chicken Florentine Pasta. I knew if I made a few modifications, my family would enjoy it. I substituted broccoli for spinach. I also used fat free milk instead of whole milk and boneless skinless breasts instead of bone-in breasts to keep it healthier. The kids loved it so much they asked to have the leftovers in their lunch the next day!
Level of Difficulty: Easy
Time Required: Prep Time – 5 min; Cook Time – 20 minutes
Ingredients for 4:
4 boneless skinless chicken breasts
1 tsp. salt, divided
3/4 tsp. pepper, divided
Cooking spray
8 oz. uncooked spagetti
2 T. olive oil
3 T. all purpose flour
1 1/2 tsp. chopped fresh garlic
1 c. fat free milk
1 c. chicken broth
3/4 cup grated parmesan cheese
3 c. cooked steamed broccoli
Special Equipment and Other Items Needed:
Grill
Preparing Grilled Chicken and Broccoli Pasta:
Preheat grill to medium high heat. Sprinkle chicken with 1/2 tsp. salt and 1/2 tsp. pepper. Spray grill with cooking spray and grill chicken for about 5 minutes per side, depending on thickness. Cut the chicken into bit sized pieces and keep warm.
Cook the pasta according to directions. Drain well and keep warm.
Heat a large nonstick skillet over medium-high heat. Add oil to pan, swirl to coat. Add flour and garlic. Cook until garlic is browned (about 2 minutes), stirring occasionally. Add milk and broth. Stirring with a whisk, bring just to a boil and let simmer until sauce is thickened. Add cheese, stirring until the cheese melts. Add remaining salt and pepper. Add pasta, chicken and cooked broccoli. Toss to combine. Serve immediately.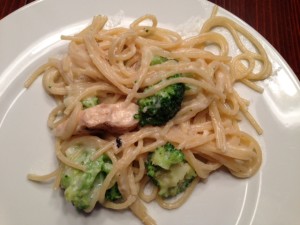 Variations:
You can add any vegetable you want in this. If my family liked peppers, I would add some red ones for color. Shrimp would also be a good alternative to the grilled chicken!
Got Leftovers?:
As I already said, this was put in my kids' lunch the next day!