What do you do for dinner when you have no desire to go to the grocery store but you still have a hungry family looking to you to put something together? You wing it!
You look through your freezer/fridge/pantry and try to think of something that might all go together and not taste horrible and not take too long. Did I mention that I was a bit exhausted from my week too?
Well, you can get lucky every now and again!! Even the kids loved it including a sleepover guest! I got to finish my night with a glass (or two or something like that, who's counting) of wine and keep my feet up! Heavenly.
Level of Difficulty: Moderate
Time Required: Prep Time – 10min; Cook Time – 20-30 min
Ingredients for 4:
4 boneless skinless chicken breasts
1 cup basil, chopped
1/2 cup parsley, chopped
1 cup feta, crumbled
salt and pepper
drizzle of olive oil
1 cup marinara
How to make stuffed chicken breasts with basil, parsley and feta:
Preheat oven to 350 degrees. Before you get your hands all yucky, chop your basil and parsley, and crumble your feta into a bowl. Add some salt and pepper and a drizzle of olive oil (maybe 2-3T). Mix it together.
Then cut a slit in the thick side of your chicken breast (not the side that tapers off and is really thin). The cut should be about 3-4 inches down the length of the breast and back towards the other side without actually going all the way across. I have a picture of this but it looks kinda x-rated so I did not add it. It at least gave Denise and I quite a laugh about the comments we might receive if I posted it. 🙂
Stuff 1/4 of the mixture into each of the breasts and then secure it closed with a toothpick. I used a 4 inch wooden skewer to easily do the trick.
Add some salt and pepper on the chicken. Bake for about 10 minutes then top with the marinara sauce. Place back in oven and cook until done about 10-20 minutes longer depending on the size of the breasts.
Let rest for a couple of minutes before serving.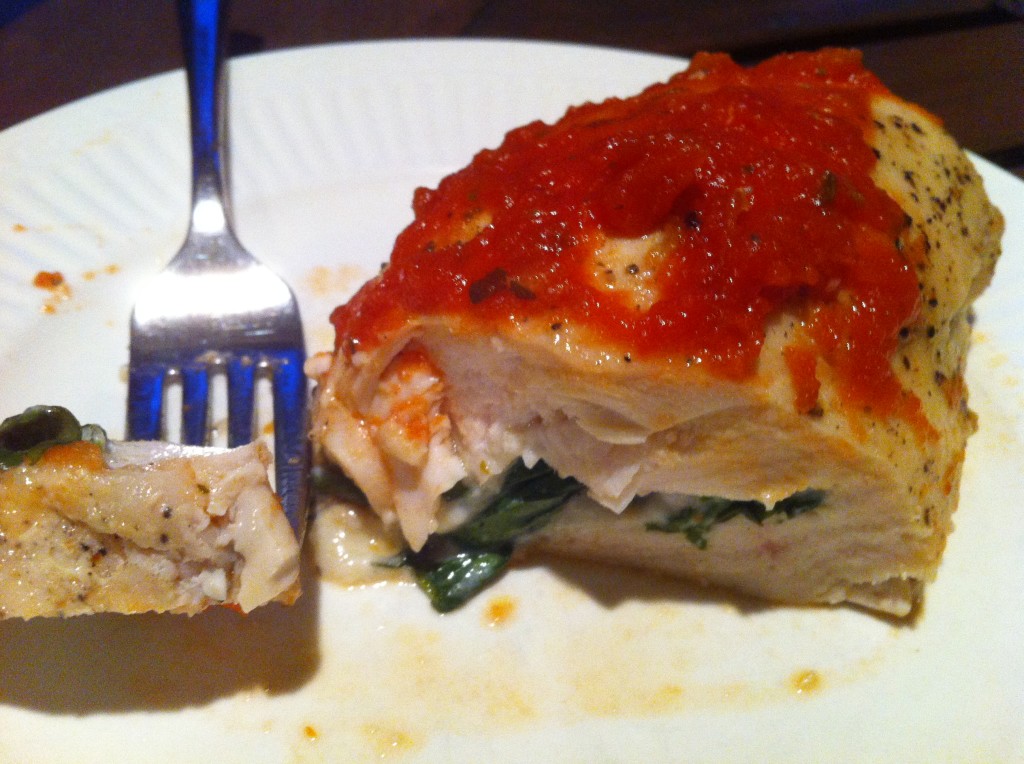 Important Tips:
Be sure not to cut all the way through the breast. Stuffed proteins will dry out quickly if you overcook them so be sure to pull this out just as it is done.